DARKRAI CHARACTER DISTRIBUTION EVENT WILL GIVE YOUR OPPONENTS NIGHTMARES!
Special Character Distribution Launches with
New Pokémon TCG Expansion, Online Showing of 'The Rise of Darkrai'
BELLEVUE, WA - April 25, 2012 - Pokémon Black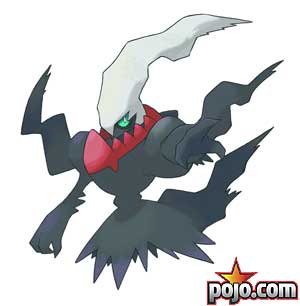 Version and Pokémon White Version video game players will get the Pokémon of their dreams, and give their opponents nightmares, when The Pokémon Company International kicks off a special character distribution event next month featuring the Mythical Dark-type Pokémon, Darkrai. The elusive Darkrai comes equipped with a special attack and special Ability that send opposing Pokémon into a frightful scenario when used together. Specific details about the special attack and special Ability will be revealed when the Darkrai character distribution begins May 9th.
Coinciding with the Darkrai character distribution is the retail release of the Pokémon TCG: Black & White-Dark Explorers expansion. This brand-new expansion features Darkrai-EX and an intimidating lineup of other Darkness-type Pokémon, such as Zoroark, Umbreon, and Sableye that will knock your opponent's lights out! The Pokémon TCG: Black & White-Dark Explorers includes more powerful Pokémon-EX cards that inflict serious damage during battle, including Tornadus-EX, Kyogre-EX, Raikou-EX, and Groudon-EX.
Darkrai also stars in a full-length feature film, The Rise of Darkrai, coming to www.pokemon.com/ex on May 9th. Pokémon fans can watch Darkrai battling Dialga and Palkia while Ash races to save a town from being thrown into another dimension. Check out the movie, find out more about the Darkrai character distribution, and view Pokémon TCG: Black & White-Dark Explorers cards at Pokemon.com this May!
To participate in the Darkrai character distribution event beginning May 9th via Nintendo Wi-Fi Connection service, players will need:
Wireless broadband Internet access

A Nintendo DS, Nintendo DSi, Nintendo DSi XL, or Nintendo 3DS system

A copy of the Pokémon Black Version or Pokémon White Version game

No more than 11 Wonder Cards in their possession
To find out more about Pokémon, visit www.pokemon.com.