Back to School Shopping Update

Hot Topic has a bunch of Pokemon themed merchandise in-store right now; I spotted Halloween accessories, hats, socks, shirts, Pikachu backpacks & clip-ons--check out Hot Topic's website or hit your local mall for all the fun.
New Jakks figures are spottily showing up at Wal-marts; unfortunately, no new mini plush seem to be in my area yet, despite what has been on e-Bay since July in the Western half of the U.S. Check out Pojo sponsor Toywiz.com to get an idea of what might be showing up in stores as the holidays get closer.
I did pick up a few items recently. My trip to Barnes & Noble netted a new Pokemon Level 3 reader from DK entitled, Ash Battles His Rivals! This item is $3.99 and has 48 pages. I also found the new Black and White manga, volume 3, from VIZ, $4.99; volume 4 is slated for November 2011.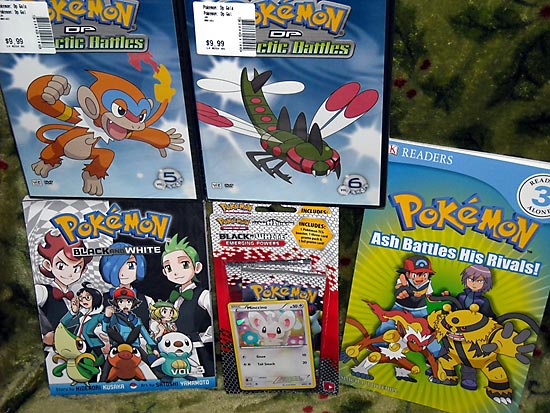 I could not find box set 3, volumes 5-6, of the DVDs for Galactic Battles locally in-store; however, Meijer had the DVDs individually for $9.99 apiece. Episodes 28-39 are on this pair of DVDs and there is one more box upcoming to finish up this story arc. Since we got a teaser of Black and White in a promo DVD that came with the prior issue of Nintendo Power, I sure hope VIZ will be issuing the series soon, as I do not have cable TV. I am eagerly awaiting the Zorua DVD release which I believe is due this month around the 20th. Hopefully, more stores will stock this locally than the series. Best Buy had the prior two Galactic Battles boxes in-store but no such luck this time.
The most fun item I found was today, Friday, at Toys 'R' Us--the new Emerging Powers blister pack featuring a TCG booster, a 3-card promo pack and a foil *drum roll* Minccino! Oh, too cute! These were a bit steeply priced at TRU, $6.99. If they show up at Target, Wal-mart or Meijer, I expect them to be just a little cheaper; however none of those stores in my area has this blister yet to my knowledge. I have spotted an Emerging Powers box set with a foil promo card (sorry the name escapes me!) at TRU, Meijer and Wal-mart; check the trading card aisles near you for this item which is under $15 and includes several booster packs + foil.
I guess I'm not overly excited right now due to pining for a Minccino mini plush. Plus I'm still suffering Post-Potter depression. My apologies. Happy Shopping, at any rate! Pika!
Loretta