Newsflash--B&W Booster Clamshell Pack Out!
I'm unsure if anyone has posted this today yet, all I noticed on your site were card of the day reviews... so, anyhow, NEWSFLASH otherwise: Target has a clamshell Black & White Pokemon TCG pack out for $11.99. It contains "three awesome booster packs from the new Black & White expansion, a special sampling pack with an additional three cards in it, 1 of 3 special holographic promo cards featuring the new Pokemon Snivy, Tepig, or Oshawott, and a cool Pokemon coin." The promo cards are obviously not the same as the ones in the Spring tins; I selected the Snivy, as I thought it was the most interesting. The coin is very sparkly holo, nice! Hopefully Omahanime will send detailed scans as I won't be opening mine until Easter so, sorry, dunno what's in the sampler... Gosh, I sure hope I get a Minccino!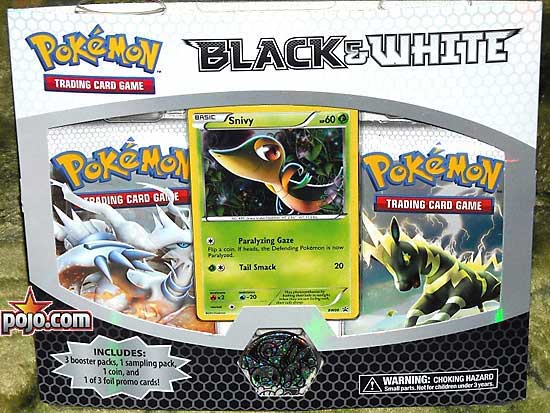 In other news, Toys 'R' Us continues to receive Black & White Jakks items. However, not all TRU's are putting the stuff out yet! I've seen online comments where people were dismayed about not finding stuff yet at their local store--but they may very well have the stuff in back! One TRU to which I spoke on the phone indicated they did have the stuff but were waiting until NEXT week (i.e., around the time of the April 27 download egg event) to set up a Pokemon "feature shop." [insert loud MOAN* *Sound effects do not necessarily represent the opinion of pojo.com or any of their affiliates. Once again I tried to snare a Tepig mini plush and missed--although they did have the transforming Pokeball to mid-size starter plush! Just like Dawn vs. Buneary, I will catch that darn li'l oiled Tepig sooner or later!] The particular TRU in question did not specify or know the specific date they would set out the merch, but it's frustrating to know it's just out of reach, especially when other TRU's already have it out en masse.
Good luck booster hunting; I'm not even sure if those clamshell packs are street date yet but I guess since I'm not opening it, I'm cool, right? LOL.
Loretta