Rush Hour Report! Black & White Mini Plush Arriving!
I'm typing as rush hour hits Friday afternoon because I got NEWS!

One of the three Toys 'R' Us stores in my area got in a box of Jakks Black & White mini plush! I snared Snivy (who will likely be my first starter when I finally open my DS games on Easter!--and don't forget to check the official Pokemon website about the TRU egg promotion starting on April 27, right after Easter!), Oshawott, Pidove and Munna. Alas, the Tepig was gone; I left behind the Sandile, as I just wasn't "feeling" it... Hopefully, more stores will start receiving shipments soon!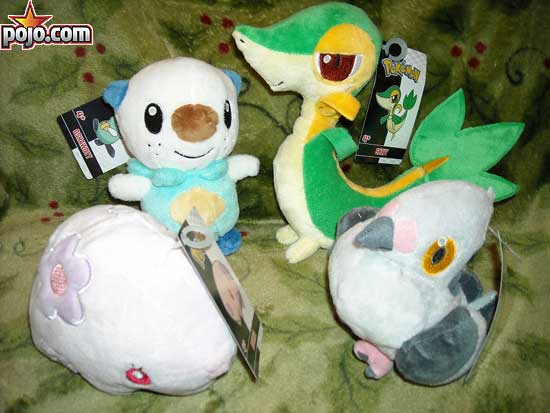 I have also sent a picture of last month's Jakks Zorua wave mini plush (incomplete--see Pojo sponsor Toywiz.com for extensive Jakks collection pix), which I found the same day Pojo informed me of the horrific disaster in Japan. Deeply saddened and also having a failed hard drive in my PC, I checked online and noticed many other sites had already posted the news about the Zorua plush wave, so I never sent out the pic after my PC was fixed. Notable is the Buneary, who now sports a wide smile as opposed to the downturned mouth on the prior waves that included this character.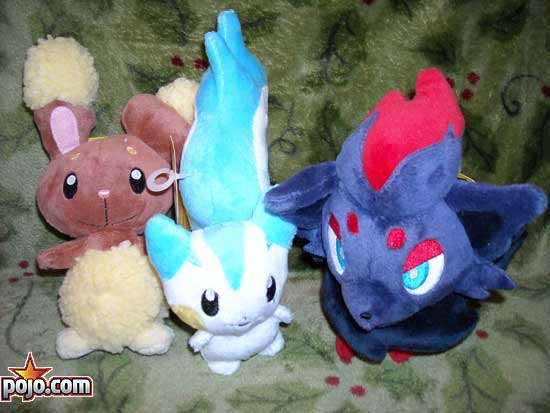 The anime store in my area of course has had a difficult time getting merchandise to sell--the owner, who is Asian (but not Japanese), has a young family to feed. He has been scrambling to find other avenues to obtain import merchandise in order to keep his import store operational and generating income to support his family. Pictured is a Takara Tomy Pikachu puppet I obtained; the owner had normally stocked Banpresto UFO plush and the clerk with whom I spoke noted the Tomy stock, which is what he could obtain while his Banpresto shipment is delayed, is pricier. Next to Pikachu is a Bandai Pokemon Pikachu action toy which I found at my local Japanese market; the three B&W starters are also available as action toys. The Black and White dragon import plush were available at the anime shop locally but it's really difficult to ascertain what sort of problems/delays might occur with merchandise. A Japanese graduate student to whom I spoke this past week said to me that his friends back home said that although the tragedy is awful, they didn't really want people to be so depressed as to not shop/buy anything, as that would hurt the economy. Besides all the wonderful donations people have sent out, one can hope that purchasing the import goods will also somehow help Japan economically.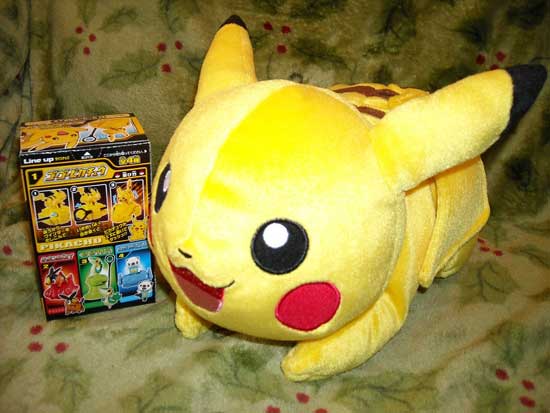 Speaking of imports, I also found Pocket Monsters Special manga #38 at the Japanese book store recently. Viz has been issuing these translated as Pokemon Adventures and recently I noticed they jumped ahead and released a Platinum manga. That corresponds to Pocket Monsters Special #30 as I can see from my collection of the Japanese versions (I have about 31 of the 38 total, mostly purchased used), which I'm sure those who are into import stuff already know. Hence, I'm hoping we get *all* the translations this time (when they were originally issued by Viz some years ago, they stopped after Yellow's arc).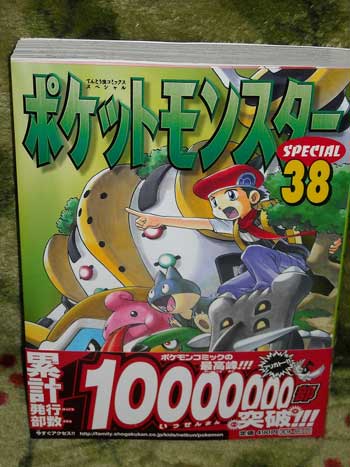 I snared a B&W TCG theme deck the day before street date--I had to get the fire deck since it has the Minccino card! I see Toywiz.com projects a Jakks Minccino plush upcoming. Yay!

Well, we're just about a week shy of Easter, so I have to insert a small plug for the 2011 Year of the Rabbit. I enjoyed the movie "Hop," despite the critics hating it (it's a kids' movie, for heaven's sake) and went to Build-a-Bear to make an E.B. and also to Wal-mart which is now nearly cleaned out of Hop merchandise (oh, Omahanime, did you ever get any?). I'll close with tacking on that pic of the Buneary in the Hello Kitty usagi kimono (see the little white fluffy bunnies?). And as a responsible pet owner, I'll direct you to www.rabbit.org just in case you think you want a bunny--not a good idea on a whim, as Omahanime and I both know that rabbits are fragile, easily frightened creatures that require specialized vet care that can be quite expensive and proper routine care is time consuming. So please, enjoy your E.B. and Buneary plush and chocolate bunnies and never buy a pet unless you can care for it properly.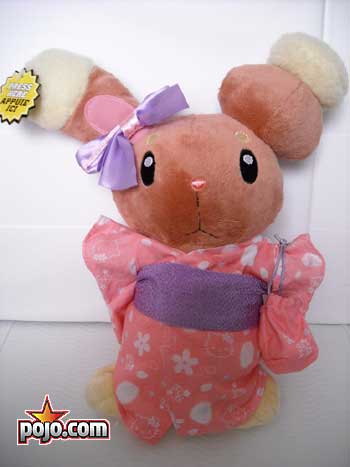 Happy Spring everyone!

Loretta and Usagi Angel-chan