Celebi-rate!--New TCG Box Sets at Target
I must've missed seeing this Friday, although I caught the new "Easter 2011" (per the shelf sticker) TCG box with the Turtwig evolutions (incls. Torterra foil) + booster for $4.99 at Target. The "World of Illusions" TCG box set is out! Giant Zoroark foil, Celebi Prime foil + 3 boosters, a great deal for $11.99 (that's like getting the promo foils free!) at Target. What a great way to herald in the GameStop download week featuring... Celebi! I believe that starts tomorrow, 2/21. I'll be watching the shelves like a Fearow now that Toy Fair is past. Oh! I almost forgot, for those of you that own DSi's--TRU has had an awesome Pikachu charging station for the DSi for a few weeks now. It's around $39.99, I believe. HUGE plastic Pika that cradles and charges your game unit. Too bad I don't have a DSi, but then, honestly, I guess I'm the sort that enjoys older tech (um, Tetris, GameBoy original... heh...). And don't forget to reserve your copy of Pokemon B or W soon--those special offers at some stores expire about a week or so before street date, so...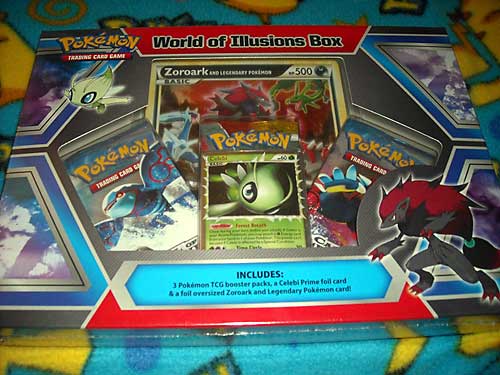 Happy Celebi-ration!
Loretta