Everything" Is Out! Pi-Pichu!!!
I'm afraid my updates may be sporadic in the coming few months as I prepare to move. However, the question this weekend is "What DIDN'T come out?!" as shelves are being stocked for the upcoming holiday season (yeah, and school hasn't even started yet...).
Target and TRU are getting in more Gold & Silver Jakks swag. Target had an exclusive diorama figure set that included the 3 G&S starters and Ho-oh and Lugia! TRU has had new Pop and Battle Poke Balls for the last few weeks with the G&S starters and Swinub. TRU also has had new Pop Balls with tiny starter plush inside. But... my greatest excitement comes from... NEW MINI PLUSH! Unfortunately, I have a full-time real job, so... I didn't get to the shelves Friday quick enough to score the Lugia, but I'm working on tracking that down. The picture shows the cute monsters that came in this wave: Pichu, Politoed, Togepi, Murkrow and Igglybuff.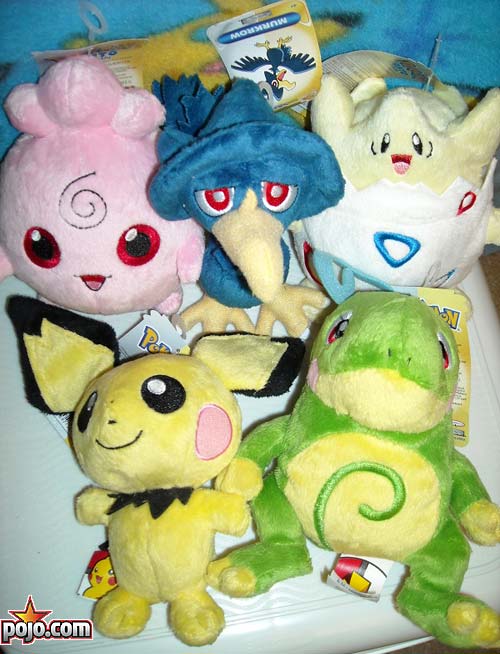 On the comic book stands you can find vol. 8 of Pokemon Adventures this week, starting into Gold & Silver territory--and notice the Japanese version, Pocket Monsters Special, is up to vol. 35 in this series with vol. 36 coming soon. I'm glad Viz decided to continue on with this series which they dropped a while ago after Yellow's story arc ended. There was a new Japanese manga on the shelf labelled "Pokemon Try Adventure" that just came out in July; and earlier this summer I found the other manga pictured which stars a protagonist named "Jou"--and at the end of the story there is a cameo appearance by-? (No spoilers! ;)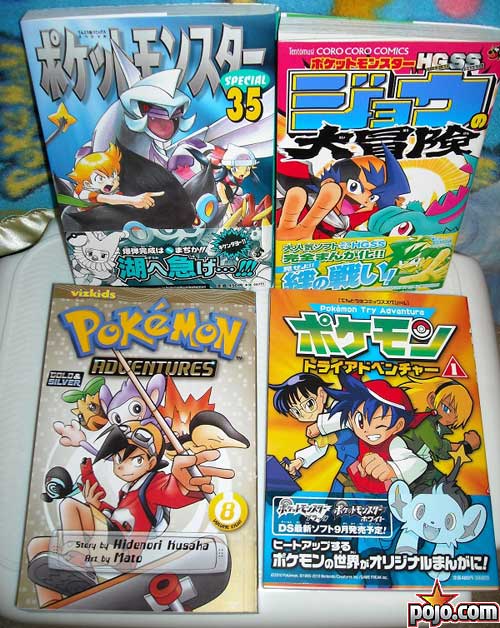 I must close this brief report with a great big thank you to my friend Mieko-san for providing me with some vintage Pokemon plush her teenage daughter had outgrown as a belated birthday gift (our b-days are only a day apart--and OH, thanks again, omahanime, for the bunny card!). Arigato gozaimasu! Pi-Pichu!
Loretta