You Should be Grateful, Mii is "Styli"n'
Hi, Pojo,
Going into Memorial Day weekend, I did spot one new item on the toy racks at TRU. Yes, that Seed Flarin',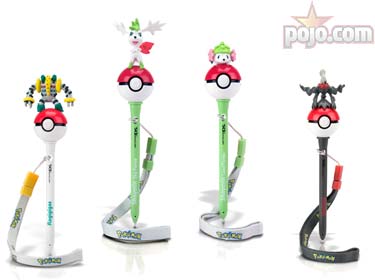 Mii-gocentric little Pocket Monster debuts as two different DS styli (along with Darkrai and Regigigas), Land Forme or Sky Forme (pictured here).
TRU wanted $12.99 for these; however, the prior wave of styli is available at Best Buy, Wal-mart, etc. for around $9.99. Perhaps the new designs will show up there, too, soon.
Target has yet to put out new Jakks toys in my area; but, they are having another price cut on the figures that are currently out until the beginning of June. Here's hoping for a re-stock; my local Targets have not had any new waves of mini-plush for ONE YEAR. One store did have a new Pika yellow (with the D&P Starters & Pikachu
pictured) sign flying over the shelf, so it looks like they will be continuing to sell Jakks Pokemon toys.
On a brighter note, there are some cute new candy-toys on Bandai's website:
http://www.bandai.co.jp/candy/pokemon/index.html
New figures and some new wind-up "cars." I hope some of these show up in my area! :)
Mii!
Loretta