On the Wings of Wingull, I've Got News!
So I finally get a week off work, what is the first thing I do after ditching early (on vac. time, of course!) Friday but head over to the shopping mall area to snoop for new Poke-merch! I even skipped lunch for this report—I'm waiting for some Green Giant veggie bites, broccoli/cheese YUM, to cool while typing a special report just 4 U! I noticed that several local stores recently got in the Pokemon 1st 3 movies DVD set—spotted at Wal-mart, TRU, F.Y.E. and Best Buy, ranging in price from $14.99-$19.99. Target has NOT stocked any of the latest Pokemon DVDs in my area [moan]. The Shaymin movie has slowly started to show up but oddly, Wal-mart seemed to be more on top of the box sets than the movie, as I haven't seen any copies on their shelves in my area. TRU or Best Buy would be the best places to check for that—but price-wise, I'd venture you might find better deals online-?
From my pictures you can see I've been shopping for Spring fashions. Wal-mart has these cute youth boys' swim trunks for $9.00 up to size XL(14-16). Mebbe I better ease off the veggie bites if I want to slip back into these, LOL… :P Also, Hot Topic is clearancing out a ton of merch. including this heavy-weight adult hoodie, half off the original $48.00 price! What a buy! I even got an additional 15% off with my Hot Topic punch card (spend a ton of dough many times, get 15% off eventually… ;).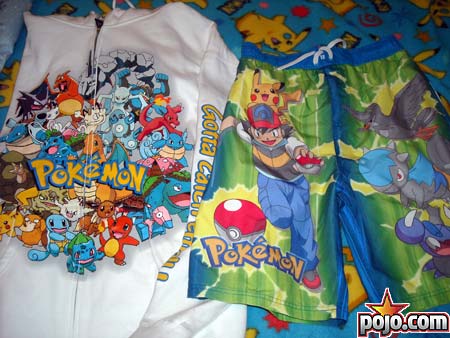 And now… what I've been waiting to say [deep inhale]… NEW WAVE OF BATTLE DIMENSION MINI PLUSH ARE HITTING THE SHELVES! Drat, I didn't manage to get to TRU soon enough tho', as I did not see all the Pokemon that the toywiz.com site noted would be in this wave. I snatched up Snorlax and Wingull but I also saw the Lickilicky, Riolu (I liked the prior Jakks version a little better I think), Sneasel (new pose, arms crossed), and Drifblim (I thought the Drifloon was cuter ;). I'm keeping my eyes open for a re-stock because toywiz.com mentioned a Buizel and a Ralts in this wave. Unfortunately the box in which the wave came did not have pictures of the characters in this set. At $6.99 a pop, sorry to say, I did not catch 'em all so check the toy sites and/or e-Bay for previews as the come. Target had their price cuts noted until 4/20 on the shelf tags, so I don't expect to see anything there for a bit. Wal-mart did not have the new plush but over the last 2 weeks I have spotted a few single figures from that Platinum wave (pictured on the toywiz.com site, along with some pix of the new waves of 3 packs—check it out!).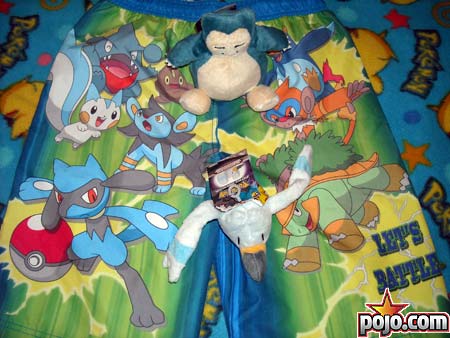 On to my veggie bites while I try to mail this out; I'll be shopping on my week off so if I spot anything else, I'll shoot out a message and share the good fortune so hopefully you all can find the stuff you want, too. Oh, and I did spot the Darkrai and Giratina MEGA size figures at my local TRUs, just in case anyone wondered (I have lurked on that wonderful Livejournal site where I spotted a picture—check out that site, it's awesome, a great community of Poke collectors…). Pika!

Loretta