Hi, Pojo,
Although I haven't sat down for a while to type up an article, this past month has been busy with Pokémon doings. First off,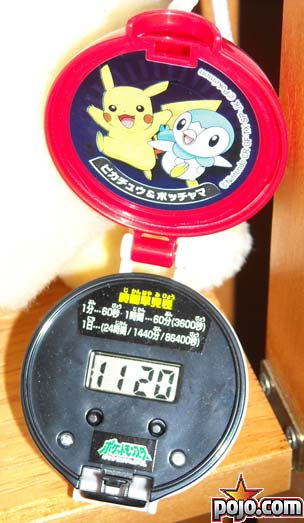 January is traditionally a month to organize/store things after the holidays. In case manga fans haven't figured this out yet, DVD bookcases have shelves just the right height to accommodate standard size manga volumes. I found a couple of nice, solid wood folding bookcases at Kroger Marketplace on sale and loaded 'em up with Pokémon manga, deluxe Jakks plush (which, BTW, were on special clearance at select Meijer stores at an additional 30% off—meaning orig. $19.99 were about $6.99!) and accented with this cute Subarudo (Takara Tomy Group) Pokéball clock from the candy-toy aisle. The clock pictured comes in 3 different ball styles and also included a Shaymin and a Giratina style (that's Buneary's foot in the background—you didn't think she'd let me pick anything other than the Pika clock!). The clock has a long cord so you can hang it around your neck to keep track of time while you play the TCG so you don't miss one of Brock's wonderful meals, LOL. The Pokéball clocks were around $7 at my local Japanese grocer. Meijer continues to have various Pokémon sales; this past week I noticed buy one get one sales on figures and I managed to pick up a Pressman puzzle of the D&P gang for 25% off. Plenty of Shaymin themed candy toys from Bandai continue to show up at the market, too. Keep your eyes open when you go for your Pocky fix…
The latest D&P Adventures VIZ manga (volume 3) showed up at my local Barnes & Noble a few days before its Feb. 3 release. However, at my Japanese bookstore, I managed to score a volume 6-! D&P Adventures Corocoro manga that had been released at the end of December, ISBN 978-4-09-140760-3 AND the Shaymin movie Corocoro manga released last summer ISBN 978-4-09-140665-1, just in time for the American DVD release! I hope VIZ translates that for us. In the picture, you'll also see the new Jakks toy I found! Pokémon Racer Chasers pull back racers have hit the shelves at TRU! I found the super-cute Pika and also spotted the D&P starters along with various other characters incl. Misdreavus and Shellos… This is a nice, green toy, no batteries required, just pull back and watch 'em go, $5.99 at TRU!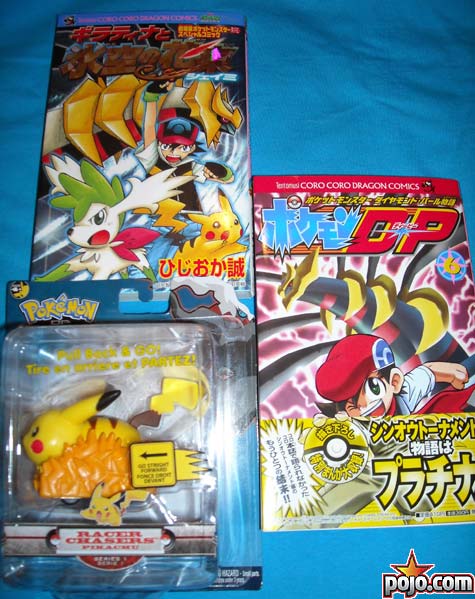 With all the Pokémon events, one must show up fashionably. I noticed a new T-shirt/shorts set for younger boys, up to size 8, at Wal-mart yesterday which pictured several legendaries on a red top complimented with coordinating solid color shorts, $10. I also scored this cool new Hot Topic adult T, $19, emblazoned with Pikachu. Hopefully, everyone managed to attend the Shaymin giveaway at TRU (yo, omahanime, how about that movie poster ;). Some fans got a nice surprise, as my local TRU's had the Platinum TCG decks and boosters out a few days early, probably to celebrate the download event. Now I am hearing a rumor of a Giratina figure giveaway with Platinum DS reservation—which I shall have to investigate after I clean the Buneary cage and Magikarp tank. ;) Pika!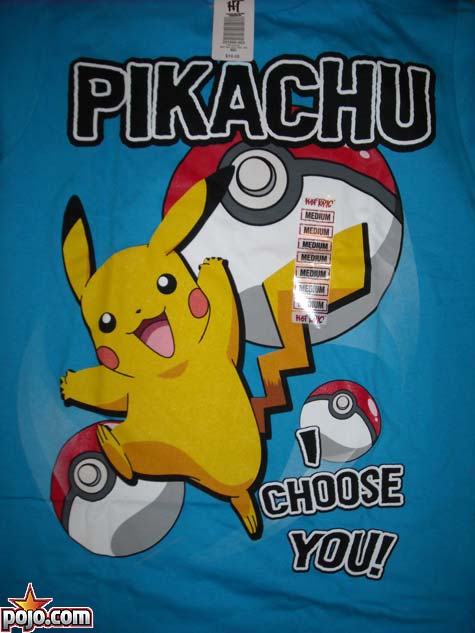 And ... It looks like the book about Satoshi Tajiri is coming out next month. Yay!

Loretta