On Newsstands Now!
A Christmas Eve trip to pick up a few last minute household items turned up a couple of fun finds on the magazine rack at one of my local Barnes & Noble bookstores! Check out the picture! I had not heard about the OFFICIAL Pokémon magazine from Pokémon International; I just swung by the Official Pokémon website and did not spot any news, although that could be hidden somewhere I did not click. This website: http://www.pokecorner.com/pokemon-magazine-arceus.htm, notes a November release date and details of content for the item. I managed to snare the last one on the rack, $6.99 (same as the Beckett's 'zine I also found), and must note that despite weekly runs to the bookstore, this is the first I have seen of this. Another B&N had the U.K. 'zine Pokémon World, Annual 2010, finally on the rack, $19.99 (import), but no sign of this U.S. official release. The 'zine includes an Arceus booster and poster, so it's definitely worth a try.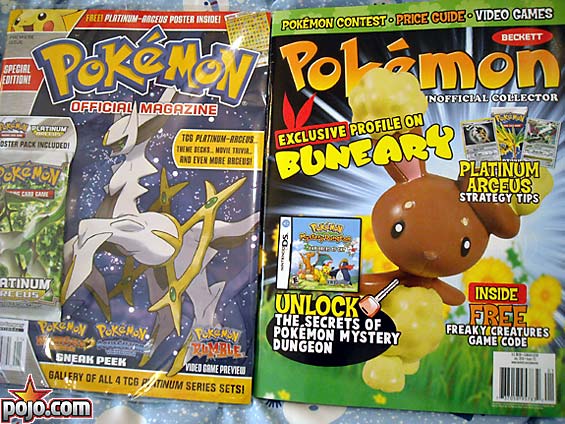 Of special note to omahanime (and his bunnies! ;) the new issue of Beckett's 'zine features BUNEARY (PIKA!!! :D) on the cover along with accompanying profile article inside. This is on B&N newsstands now and I also spotted it subsequently on the Wal-mart newsstand (just showed up—and you get a discount on 'zines there). My local TRU sometimes gets new issues in, too; but no luck this round. I'm actually more curious where the official Poké 'zine will be carried and whether it will be periodically published, as this issue noted it was the "premiere." Hang on a bit here, it's Xmas morning, gotta run, feed the Buneary and myself and…
… OK, several hours later, after digging thru the loot… There is no information in the official 'zine about subscribing or how often it will be published. The 'zine devotes a good deal of space to card galleries—which is a nice reference if you don't have room to hang the myriads of posters that have been coming out; however, I think real fans will probably be buying both Beckett's and this official 'zine because the price guide in Beckett's is invaluable, something the official 'zine lacks. Oh, and the article on Buneary was a blast (in Beckett's). If you have a gift card burning a hole in your stocking, hit the newsstands and look for the various Poké-zines out there; one is sure to catch your fancy.
Happy New Year—and I hope I will have some news soon. I did notice that both TRU and Target did a bit of restocking on the mini-plush at the last possible minute. That's good news for people like me who enjoy plush!
Pika!
Loretta