It's a "Bun"derful Life!
I'm a bit behind in news due to some unfortunate personal circumstances including illness. However, I have a couple of picture to share this weekend before I head out for the Arceus download at TRU. There was an article in my local paper recently indicating that retailers were being conservative with stocking due to the slow economy. I've found that to be true in the toy aisle; however, I did manage to find one Wal-mart that had received the new Jakks mini-plush about 2 weekends ago. As you can see by the picture, I picked up three cuties, the other three were already scarfed up by the time I got there (pictured, Cleffa, Shaymin Sky & Swinub; missing, Giratina, Mamoswine & Wooper, per toywiz.com et al. sites' reports).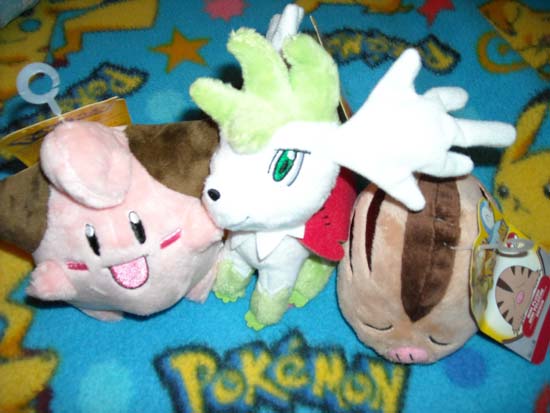 Last week we had the release of box 3 of the Battle Dimension DVDs; this week we had the Arceus TCG expansion. Many stores have the gift boxes, tins and blister packs for this expansion already. I spotted the large Arceus poster box set at Wal-mart which included 5 Arceus boosters, poster, mega size Arceus foil and regular Arceus foil, I believe around $19.99. There was also a smaller poster box with 2 boosters, poster, I believe a pair of POP boosters and the regular Arceus foil, around $9.99. The Arceus tin with the level X foil was also there, didn't see a price posted on that. I'm sure omahanime will shoot some scans out if he hasn't already (I have to apologize if I've missed news, I have been recovering-!). Target had this great new blister pack—yo, omahanime!—which included this cute pair of POP foils, Happiny and LOPUNNY! As you can see, I picked up two, $4.99 per pack, which includes the two foils, an Arceus booster and a POP booster. Meijer has been running 20% off all comic cards the last couple of weeks; limited new merch. on the shelves, though. Wal-mart had the biggest selection of the new Arceus TCG items as of this Friday here.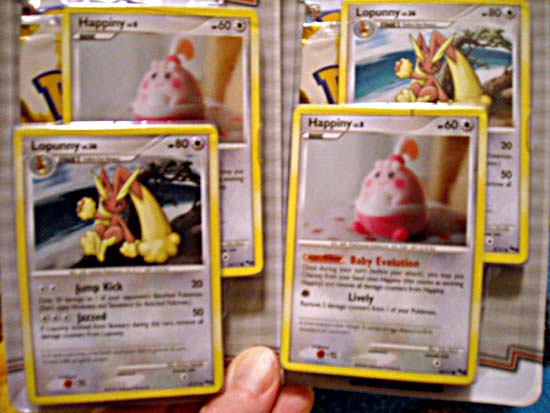 That's it for now; I'll keep my eyes open for the arrival of holiday stock. I'm particularly intrigued by the pre-sales/reports of this "Rumble" TCG pack. Hmm. Hey, I wrote this entire report w/o using the P word—we do know this is Pokémon news, right? LOL. Pika pi!

Loretta

11.10.09 - I do have an Addendum:

Target has a Pokemon box in the stocking stuffer/seasonal aisle, $4.99, which includes a Platinum series TCG booster, a 2 card [POP] booster and a foil of an Elite Four Flareon. Also, I located the $9.99 Arceus poster box at Meijer, on sale at 20% off (and also spotted the bigger Arceus box, $19.99, also on sale, 20% off); it looks like my local Meijers are running the sale through the end of this week. It has been ongoing for the last several weeks and has been a great opportunity to stock up on comic cards!

L.