Spotted... Gossip.... GENGAR?!
Gossip Gengar here with a pre- and post- Black Friday shopping scoop. I can't say enough times how lean the shelves are this year. However, after I sent my last report, I headed out to TRU and noticed some newer 4-figure Jakks tubes, which appeared to be on sale Black Friday weekend and also, TRU had an exclusive "outdoor scene" Jakks boxed set which included about 8 previously released figures. Unfortunately, restocking isn't moving along—the new single figure packs that made it before Black Friday were not back in stock for the actual day, Black Friday. A truck hit my local TRU Saturday, but still no new Poké stock. From what I've seen of the actual figure and read online from other fans, the Flareon figure is hot-hot, great Jakks sculpt. Hopefully TRU will get something in for us Poké shoppers, as I'm not exactly interested in a certain over-hyped interactive hamster (whatever happened to Hamtaro, anyhow?).

And now, the scoop! After hitting up Target on the Sunday before Black Friday, I hit the jackpot. NEW MINI PLUSH!!! I did some online research on this very unexpected find—the ONE and ONLY set of the prior wave I saw at a Wal-mart that included Giratina has yet to show up anywhere else or be restocked in my metro area of around 1 million people—and found out indeed there were more plush in this subsequent new set. Sunday, I spotted Gengar (I passed, I have the older mini), Arceus and Bronzor. The Arceus is taking some flak online—it is, I'd say, in an odd pose, kind of like one of Santa's reindeer taking off. But I had more work to do. A call early in the week, then a subsequent trip Wednesday netted a Leafeon! Alas, I still had more work to do. I braved Black Friday mid-day and nothing. However, a Saturday morning trip netted the missing piece, Glaceon! I do not know if this is all, I have to look online a bit more (the Livejournal community and e-Bay are good places to snoop; toywiz.com did not yet have anything posted as of the day before Thanksgiving); the last 2 sets had 6 pieces and I count 5 new pieces so far. I'll keep you posted. I wonder if Jakks will ever do a mini-plush Eevee (they had one tiny one in the throw ball, I'd love to see it bigger!)-?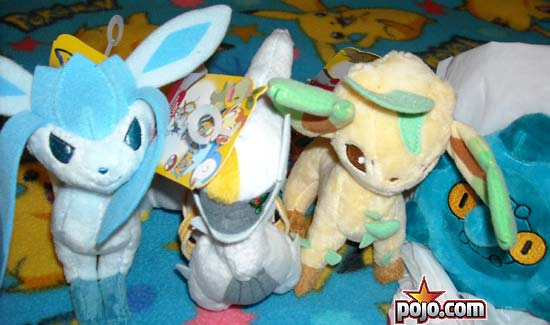 Good luck with your holiday shopping; I'll shoot out a report if I see any restocking or new items. For parents shopping specifically for Jakks Poké toys, I've seen them being sold at Target, Toys 'R' Us, Wal-mart, Meijer, K-mart and Go Games; however, of the fewer stores that still carry the toys, many have much reduced or older stock. Trading cards and videogames are easily found, at least, and are surely always welcome gifts. Pika!

Loretta
Addendum:
Got Light? Pikachu may have looked adorable in the Got Milk? poster campaign, but this Pika gets its vitamin D the solar powered way! While Mom will be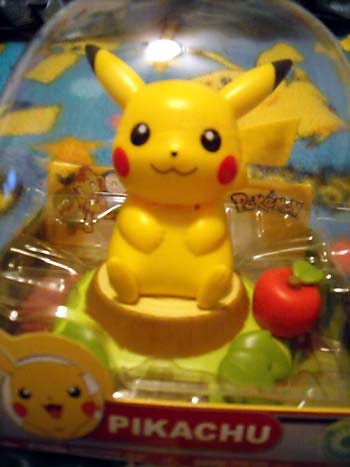 slapping sunscreen all over you, Pika will be basking in sunlight and bobbing its little head back and forth this holiday season and well beyond—it really IS solar powered. This gizmo looks like something straight out of an anime import shop—and there was a Piplup version, too! If you thought the Cheebees were sugar cute, Jakks has outdone itself with this toy; Pikachu sits on a tree stump, smiling, surrounded by green leaves on the green "lawn" base and there are two apples ready for Pika to snack on! The Piplup version was equally honey cute but there were what appeared to be either strawberries or pink flower buds on the base instead. Where to buy??? Toys 'R' Us, $13.99. The toy appears to work under room lighting but I'll bet that near a sunny window Pika will be bobbing quicker. This item makes a good room décor piece but parents should not expect it to be something that a child will dwell upon for more than a few minutes; hence, I'm not sure how well it will sell, but I personally think it's one of the cutest things Jakks has produced. "Whimsical" would be my assessment. Note: the toy has its on/off switch accessible on the bottom of the exterior packaging—hence, you may display it within the attractive plastic packaging to keep dust off the item. Kudos to Jakks for being "green" on this, too. Toys that don't require batteries rock and help keep Pika's world APPLE red and leaf green! ;)
Pi Pikachu!
Loretta