Ready, Set, Shop!
I'm sure omahanime will be sending scans, if he hasn't already (I'm a bit behind reading news…); but there are 2 new blister packs at my local Wal-mart, $10.97 ea., which include 2 Arceus TCG boosters, 1 D&P series booster and your choice of either a Darkrai or Cresselia foil promo (if you are a player, you'll probably want one of each, as the attacks on each card note if you have the other card in play, you get a perk!). If you are looking to buy boosters on the cheap for stocking stuffers, keep your eyes on Meijer, as they have been having quite regular specials on comic cards; for several weeks they had 20% off, then, Saturday this weekend, they had 30% off. Their periodic sales range from 20-30% off. A lot of these sales are one day only, so it's difficult to get the word out in time. For me, it was amusing to see the Darkrai and Cresselia cards Saturday, as I had just watched the "Sleepless in Pre-Battle" episode on DVD (check your local Best Buy or Wal-mart for Pokémon DVDs or order online—great holiday gifts!).
F.Y.E. has gotten in some new Kurt S. Adler Pikachu Xmas stockings; select Meijers are selling the Pikachu Kurt S. Adler ornament I showed a few weeks ago. Go! Games at regional malls have some older wave Jakks toys for sale, including mini-plush, in case you missed pieces. Kohls has a men's Pokémon T with a design formerly on a Hot Topic men's T; their shirt is in powder blue, with a first generation group shot, as opposed to the grey shirt HT had. Hot Topic has gotten in a new men's Pikachu T, too. Newer items have been very slow in coming; as I mentioned, newspapers indicated the slow economy would impact store stocking levels. The newest mini plush have been exceedingly hard to find—but I haven't run to the store yet today (Sunday). Select Wal-marts and Targets have been carrying a few mini-plush, the pop Poké-balls and figure 3-packs. The single figures packs seem to only be at TRU in my metro area (Central OH). However, check out the picture! TRU got in the newest wave (you can see the entire wave on Pojo sponsor toywiz.com) last week and this week restocked, luckily, so I was able to get the Glaceon and Flareon. The sculpt of Flareon is spectacular. The wave includes: Shaymin Sky, Regirock, 'Steel, 'Ice, Haunter, Giratina Origin, Unown (F), Rapidash, Porygon2, Glaceon, Jolteon and Flareon. The Shaymin and Rapidash appear to be the hardest to find—none spotted by yours truly, followed by the 2 in my picture.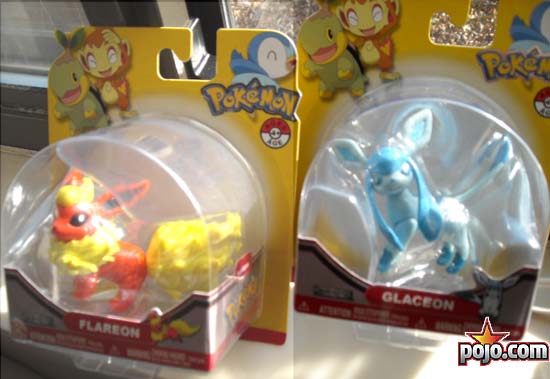 My advice to holiday shoppers is to check frequently, as stock may be scarcer this year. I've also noticed you sometimes find things when you least expect them, where you least expect. A few years ago, Yu-gi-oh cast a shadow over the Poké displays; this year it's Bakugan. But Pokémon has proven its staying power, so if you are persistent, you're sure to have something good in the toe of that Pika stocking this year!
Happy Thanksgiving—and I'll be Haunter-ing the aisles looking for the latest! Pika Pi!
Loretta