I'm BOARD...
I'm just sitting (or rather, hovering around store shelves) here waiting for new Jakks toys to arrive so I can get you a shopping update. Check out returning Pojo sponsor toywiz.com to see what new mini-plush should be making their way to shelves soon. Apparently, folks on the West Coast are finding these in-store already according to pictures and reports on collector websites on the web (check out that LiveJournal community, very cool!). Alas, as I've heard from many in retail, stuff hits West first then trickles East. Sit tight!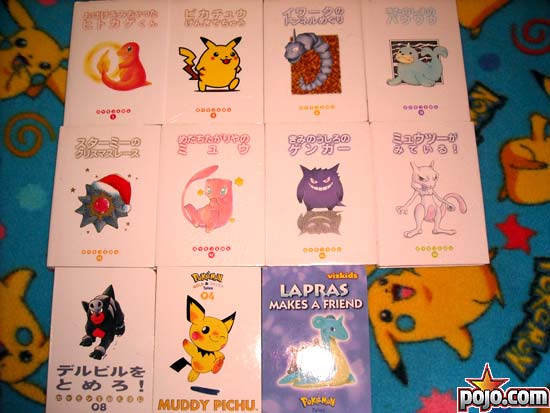 In the meantime, I'm board—that's right BOARD. The Gastly of Pokémon past showed up in the great find of some used Japanese board books at my local bookstore (see picture). The original Japanese series sported embossed dust jackets but the newer Silver/Gold ones appear to be similar to the American Vizkids releases, also pictured. If you're bored, check out your local used bookstores; can't sit around attached to that DS 24/7, unless…
… you're a character in this new Japanese Pokémon Battle King manga! This manga just came out last month, ISBN978-4-09-140834-1 (for those of you who order import online), and appears to focus on trainers battling on their DS's. Not to spoil an ending, but our hero is waving his DS around on the last page, LOL.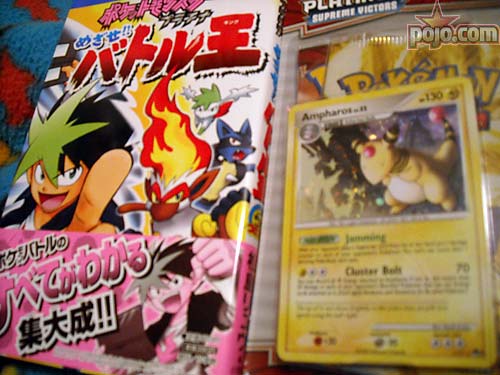 I'll leave the quality scanning to omahanime, but I thought I'd let you know I found another new blister pack featuring an Ampharos POP7 foil, a Supreme Victors booster—and of note, a POP9 booster, $4.99 at Meijer (check for their fairly regular specials on comic cards, I've often found Super Saturday sales with 25% off—they had a special the week of the Supreme Victors release so I got an incredible deal on that Dialga foil/poster box!).
That's all for right now—the Magikarp tank needs cleaning… Chime, chime!
Loretta
Addendum:
I forgot to include a report on a new Scholastic Reader I found at my local Barnes & Noble, the newly released Sinnoh Hall of Fame by Katherine Fang, $7.99.

http://www.amazon.com/Sinnoh-Hall-Fame-Handbook-Pokemon/dp/0545151260/ref=sr_1_1?ie=UTF8&s=books&qid=1255885173&sr=1-1

This book is an excellent companion piece to the prior Scholastic release, World of Sinnoh by Simcha Whitehill which included detailed synopses of D&P anime up to episode 51. This new handbook is 96 pages packed with fun trivia from the D&P anime and is kind of a "best of" listing of various categories like characters' "Memorable Moments," "Pokemon Personalities," "Tough Rivals," "Big Battles," "Funny Moments," etc. Although Amazon lists the reading level as ages 4-8, I know I did not read at the level of this book at the younger end of that age bracket; perhpas for younger fans, parents can read the book to their kids--and the book is certainly entertaining enough for the adult fan, too! The glossy pages are jam-packed with snapshots from the anime and illustrations. If you bought and enjoyed World of Sinnoh, this new volume is a must-have. There's even a blank page at the end where you can list your own choices of "Greatest Moments." Happy reading!

Loretta