In Stores AUGUST 19, 2009
MSRP for Theme Decks: $11.99
MSRP for Booster Packs: $3.79
Increase your power with impressive new Pokémon that will take you to the pinnacle of Pokémon battles-the Battle Frontier! The brand-new Pokémon Trading Card Game (TCG) Platinum-Supreme Victors will arrive in stores nationwide on August 19, 2009.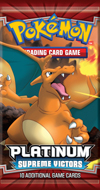 In the new Pokémon TCG set, Platinum-Supreme Victors, you'll find more sizzling Pokémon SP like Blaziken, more ferocious Pokémon LV.X like Charizard LV.X, and more opportunities to battle your way to the top. Victory will be supreme when you play with Pokémon trained by Team Galactic, the Battle Frontier elite, and the Sinnoh League Champion! This latest installment of the best-selling Pokémon TCG contains more than 150 cards and features new Pokémon SP and new Pokémon LV.X including Rayquaza, Garchomp and more!

Loaded with the latest Trainer cards, new game play options, and some of the most awesome Pokémon ever, this new TCG allows supreme victory to be yours!

Features of the new Pokémon Trading Card Game: Platinum-Supreme Victors:
· Collect Dragon Type Pokémon including Charizard and Rayquaza
· Discover new Pokémon LV.X including Charizard, Garchomp, and Blaziken
· More Pokémon SP including Frontier Brain's Pokémon and Champion's Pokémon

For more information, visit www.go-pokemon.com.