FOR IMMEDIATE RELEASE
NEW WORLDS -- NEW POKÉMON
NEW POKÉMON TRADING CARD GAME: PLATINUM
Features 130 Cards Introducing Never-Before-Seen Pokémon Shaymin
and a New Forme of Popular Renegade Pokémon Giratina

BELLEVUE, Wash. - Prepare to face challenges that no Pokémon Trainer has ever before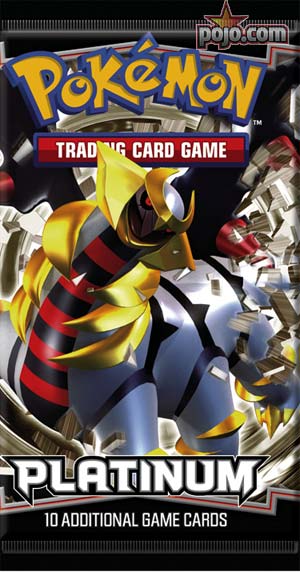 encountered as Pokémon USA, Inc., a worldwide leader in the trading card game industry, announces the all-new Pokémon® Trading Card Game (TCG): Platinum. Hitting stores on February 11, 2009, this latest installment of the best-selling Pokémon TCG features 130 cards. Pokémon TCG: Platinum will introduce players to Shaymin™ and the new Forme of the Renegade Pokémon Giratina™-Origin Forme. Additionally, Platinum contains six new Pokémon LV.X, including Giratina and Shaymin, as well as three Shiny Pokémon, which are only available as parallel foil cards.

The announcement of Pokémon TCG: Platinum coincides with Nintendo of America Inc.'s announcement of the highly anticipated video game release of Pokémon Platinum Version, which comes to retail on March 22, 2009. The Platinum video game and trading card game are linked by another notable thread as they both include the key character Giratina. Featured as one of the key characters in the Pokémon Platinum video game, the new Forme of Giratina is also a paramount addition to the Pokémon TCG expansion.

The first step in the next Pokémon TCG adventure, Platinum, features theme decks for beginner and intermediate Pokémon players, as well as booster packs for collectors and players of all ages. The theme decks will be available in two 60-card theme decks-Rebellion and Flourish-and feature an innovative packaging look with holographic treatment. Each theme deck and 10-card booster pack is priced at a MSRP of $11.99 and $3.79, respectively.

Pokémon TCG fans eager to view Platinum prior to the February 11 release date can get a sneak peek of the new expansion at Platinum Prerelease tournaments held over the weekends of January 31 - February 1 and February 7-8. For more information regarding the Prerelease tournaments and product, visit http://www.go-pokemon.com.