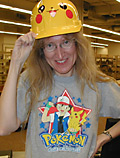 Loretta
Pokemon Home

Pokedex

Price Guide Set List

Message Board

Pokemon GO Tips

Pokemon News

Featured Articles

Trading Card Game
- Price Guide
- Price Guide
- Card of the Day
- Professional Grading
- Killer Deck Reports
- Deck Garage
- William Hung
- Jason Klaczynski
- Jeremy's Deck Garage
- Johnny Blaze's Banter
- TCG Strategies
- Rulings Help
- Apprentice & Patch
- Apprentice League
- Spoilers & Translations
- Official Rules
- Featured Event Reports
- Top of the World
- An X-Act Science
- Error Cards
- Printable Checklist
- Places to Play

Nintendo Tips
- Red/Blue
- Yellow
- Gold & Silver
- Crystal
- Ruby & Sapphire
- Fire Red & Leaf Green
- Emerald
- SNAP
- Pinball
- TCG cart
- Stadium
- PuPuzzle League
- Pinball: Ruby/Sapphire
- Pokemon Coliseum
- Pokemon Box
- Pokemon Channel

GameBoy Help
- ClownMasters Fixes
- Groudon's Den
- Pokemon of the Week

E-Card Reader FAQ's
- Expedition
- Aquapolis
- Skyridge
- Construction Action Function
- EON Ticket Manual

Deck Garage
- Pokemaster's Pit Stop
- Kyle's Garage
- Ghostly Gengar

Cartoon/Anime
- Episode Listing
- Character Bios
- Movies & Videos
- What's a Pokemon?
- Video List
- DVD List

Featured Articles

Pojo's Toy Box

Books & Videos

Downloads

Advertise With Us
- Sponsors
- Links

Chat

About Us
Contact Us
Magic
Yu-Gi-Oh!
DBZ
Pokemon
Yu Yu Hakusho
NeoPets
HeroClix
Harry Potter
Anime
Vs. System
Megaman

Loretta's Pokemon Toy Blog
Sept 15, 2008
Shaymin Drops by...
Thought you'd enjoy a couple of pix (and that's about all you'll get with my PC having crashed trying to upload some shots--it takes about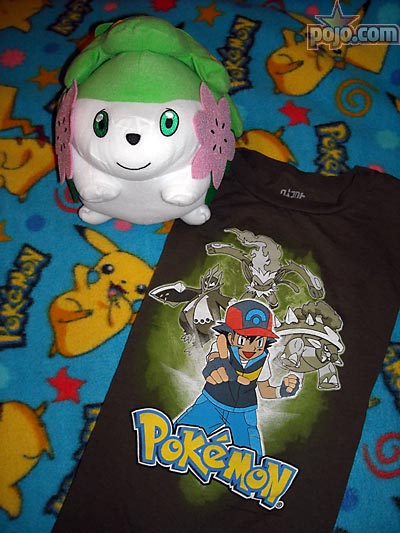 10 min. ea. and I'll prob. have spent about 1.5 hours total on this by the time I'm done... Yikes! :O) while we wait for substantial news from the store shelves.

Check out the really cute Banpresto Shaymin plush, huggable size, from Anime Palace (you can check their website for convention schedule; they have received both Shaymin and Giratina plush!) next to the new Target long sleeve T, $9.99, in youth sizes from XS to XL (mine's an XL, LOL!).

Also, for your viewing pleasure while we wait for PUSA to get off their cache of new trading figures... I thought you'd enjoy a nice shot of original Tomy/Kaiyodo candy-toy trading figure Pikachu next to its current TFG counterpart! (below) Different pose, but still shooting off thunderbolts, Pika is fighting fierce in both incarnations. I prefer the construction of the original figures better, the bases are not the brittle plastic of the current figures and the bases click a la Heroclix as opposed to spin. I have several sets of rules and at least a dozen different mats (each player needs one mat and they are placed together along the edge) for the Tomy game, you can play at least 2 different games between the 3 sets Tomy put out several years before Kaiyodo sculpted for the current game. The figures of both games are nothing short of stunning, IMHO; however, the newer figures, I have seen way too many broken off their bases, while the Tomy set still seem firmly attached (but, then, I am gentle with my collectibles). I can assure you Charizard "grew" since the original Tomy game; I hope at some point I will have time to shoot a comparison picture for you, but, time is tight for those who work full-time (yo, omahanime!) to support their hobby, soooo... :)

Pika-CHUUU!

Loretta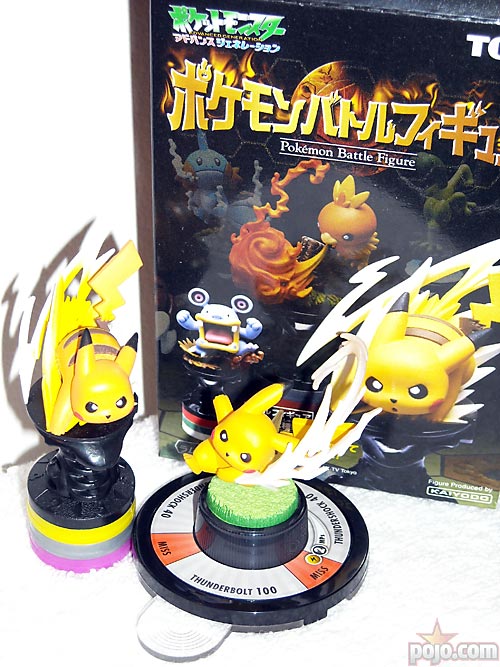 Copyrightę 1998-2008 pojo.com
This site is not sponsored, endorsed, or otherwise affiliated with any of the companies or products featured on this site. This is not an Official Site.