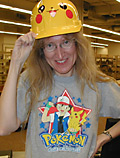 Loretta
Pokemon Home

Pokedex

Price Guide Set List

Message Board

Pokemon GO Tips

Pokemon News

Featured Articles

Trading Card Game
- Price Guide
- Price Guide
- Card of the Day
- Professional Grading
- Killer Deck Reports
- Deck Garage
- William Hung
- Jason Klaczynski
- Jeremy's Deck Garage
- Johnny Blaze's Banter
- TCG Strategies
- Rulings Help
- Apprentice & Patch
- Apprentice League
- Spoilers & Translations
- Official Rules
- Featured Event Reports
- Top of the World
- An X-Act Science
- Error Cards
- Printable Checklist
- Places to Play

Nintendo Tips
- Red/Blue
- Yellow
- Gold & Silver
- Crystal
- Ruby & Sapphire
- Fire Red & Leaf Green
- Emerald
- SNAP
- Pinball
- TCG cart
- Stadium
- PuPuzzle League
- Pinball: Ruby/Sapphire
- Pokemon Coliseum
- Pokemon Box
- Pokemon Channel

GameBoy Help
- ClownMasters Fixes
- Groudon's Den
- Pokemon of the Week

E-Card Reader FAQ's
- Expedition
- Aquapolis
- Skyridge
- Construction Action Function
- EON Ticket Manual

Deck Garage
- Pokemaster's Pit Stop
- Kyle's Garage
- Ghostly Gengar

Cartoon/Anime
- Episode Listing
- Character Bios
- Movies & Videos
- What's a Pokemon?
- Video List
- DVD List

Featured Articles

Pojo's Toy Box

Books & Videos

Downloads

Advertise With Us
- Sponsors
- Links

Chat

About Us
Contact Us
Magic
Yu-Gi-Oh!
DBZ
Pokemon
Yu Yu Hakusho
NeoPets
HeroClix
Harry Potter
Anime
Vs. System
Megaman

Loretta's Pokemon Toy Blog
July 21, 2008
A TAIL of Two Beanies
Technical difficulties did not stop me from sending you these pictures--to make a long story short, my crapola Disney Pix Click camera's (somewhat recently purchased, can't find a warranty on this thing) button circuit board had too much "give" in it, despite being firmed screwed to the camera casing, causing the contacts to not meet when a button was depressed; so, about a dozen microscrews and a precision screwdriver set later, my camera has wad of saran wrap crushed inside it providing support to the board and the darn thing now works again. Don't try this at home!--but, for me, it was either that or toss a $50 list "toy" into the trash (mind you I took an electronics course in college...).


Anyhow, enough boring details about bad products, I have news! A few weeks ago, my local Barnes and Noble stores set up endcaps of Pokemon books. Some of the stores had an additional surprise in store--a Jakks Pokemon Pikachu mini plush! The "exorbitant" price tag (as compared to elsewhere, like Target or Wal-mart, $5.99) of $9.95 kept me from adopting Pika when first I saw it. I sort of noticed a difference... yes... unlike the other mini-plush Pikachu's I'd seen in the other waves, this one had an open mouth smile! Upon closer examination, there were other differences: This Pikachu's stripes were sewn in cloth, rather than stamped on and its plush tail was stuffed with fluff, as opposed to the nearly flat felt-like tail of the earlier issue. Hardcore beanie collectors might like this variation; I've seen variations of other Jakks mini-plush as far as cloth and detail, but, this was the biggest divergence I've seen so far. I am not sure if this toy is a Barnes and Noble exclusive--I must apologize for not really have the PC power this week (I'm off work, at home, dial up, Windows ME, 128 meg RAM!) to net surf around for info... I guess e-Bay might be a place to scan for clues. Anyhow, check your local B&N next time you're in there and maybe you might find this happy little Pika! I'll be tooling around for news while I'm off work this week (in between house-cleaning and my b-day! ;) and I can tell you for now, Target is busy at work resetting their toy shelves. Hopefully, we'll see new stock soon--and hopefully a different Pokemon T for fall? Stay tuned!

Pika!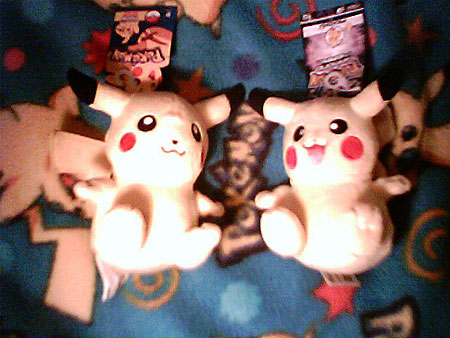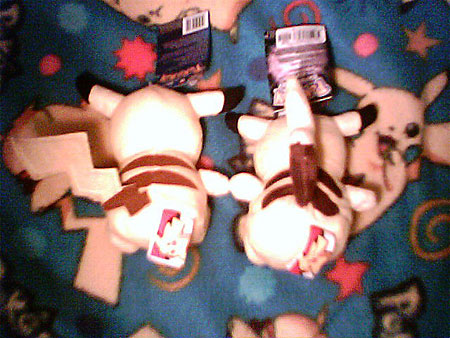 Loretta

Copyrightę 1998-2008 pojo.com
This site is not sponsored, endorsed, or otherwise affiliated with any of the companies or products featured on this site. This is not an Official Site.