Hi, Pojo,
A lot has happened while you have been away from the dashboard this last week! :) First, I have been finding all kinds of cool stuff all around town. My local bookstore has gotten in Corocoro comics and 'zines. I've enclosed a picture of Corocoro Ichiban with the Pokemon pen case with sliding Pikachu puzzle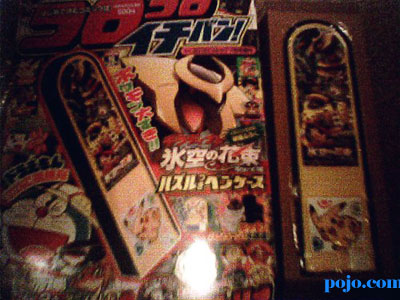 and also...
SPOILER WARNING! Why does our Piplup primin' protagonist have a

poinsettia on his pate? LOL! Check out the pic of Corocoro Dragon Comics Pokemon D&P issue #4! Shaymin debuts! You'll just have to wait until Viz catches up, as issue #2 is just over the horizon... so...
Also, Hot Topic has gotten in a few new shirts, check out the Pikachu ladies tank ($19) and the Sleeping Pikachu T ($24).
KB Toys is having a big sidewalk sale--and NEW Pokemon 3 figure packs and throw Pokeballs were out! I do not have pix of those, and I did NOT spot new beanies, yet, but, I found a link on e-Bay so you can see the new beanies:
http://search.stores.ebay.com/T-is-for-Toys_pokemon-jakks_W0QQfcdZ2QQfciZQ2d1QQfclZ4QQfromZR10QQfsnZTQ20
isQ20forQ20ToysQQfsooZ1QQfsopZ1QQsaselZ143548812QQsofpZ0
WOW! (make sure you scroll down and also click the 2nd page) Target and Wal-mart have not reset their shelves yet in my area, but, are having sales to clear the old stock. I will keep my eyes open for news! The few new throw Pokeballs and 3 figure packs at KB had Darkrai as the new logo on the packs. I saw a Happiny and a Chingling throw ball in the mix, and lots of others. Of note, I also enclosed a pic of the Pokemon D&P lunch kit I found at KB, $10.99.

And now, I do have pictures--of Origins 2008! First off, there was a bit of confusion about the $3 "Fair Only" pass. I usually purchase my admission a day or so BEFORE the event, on-site, to beat the morning lines on the Saturday I usually go. However, after walking about an hour from my faraway campus parking spot in 90F heat/humidity, I arrived on Friday to discover that they were *not* selling the Fair Only pass until the *day of*. This was not noted on the website and apparently I was not the only unhappily surprised patron. Nonetheless, things did pan out OK the next day, as I have a bunch of photos from the event. PUSA gave out a nice Shellos Origins promo
(http://search.ebay.com/search/search.dll?from=R40&_trksid=m37&satitle=origins+shellos&category0=)
and other cool swag like posters, pencils, stickers, notebooks, etc.
Brian, a very nice demonstrator with PUSA, played a TFG round with me and told me he, too, collects all sorts of Pokemon items. Thanks, Brian!

Anime Palace was running low on Pokemon plush, as many players s

cooped up what they could--but, I cheated, as I had found my Phione plush before the con from their local shop. I found the "Pokeball" Ultra Pro Deck Vault at Collector's Cache for $7--the owner and his wife waved hello to Pojo and said, "Isn't Pojo a great guy?" :) You'll find their ad on Pojo's site... What more can I say, let the pictures do the talking. Pikachu and me, I hope Buneary isn't too jealous?! ;)
Loretta