I'm hungry... for some news-! In the meantime, all that shopping has worked up an appetite, and if you haven't already noticed in stores, Kraft has Pokemon Diamond and Pearl Mac and Cheese! Six different box styles are available (pictures below!) and these will set you back around a buck and a quarter, available at Kroger, Meijer, Target, Wal-Mart, etc.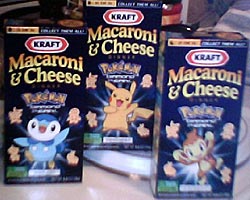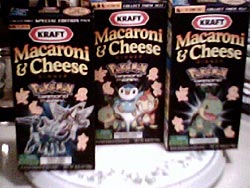 In the candy-toy import aisle, we have Bandai micro plush in D&P starters, Pachirisu and Darkrai designs! These well-made plush featuring locked in plastic eyes are about the size of the plush you would find in the Jakks Pokemon throw balls (picture below!). I found mine at Anime Palace, animepalace.com--they may be coming to a convention near you, so, inquire/check their travel schedule!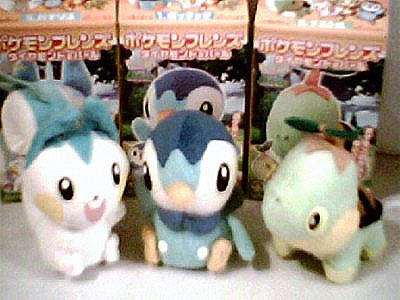 After all that eating, don't forget to brush! Crest makes brushing fun with the D&P Pikachu Spin Brush, available at Target for $4.99 (picture below!).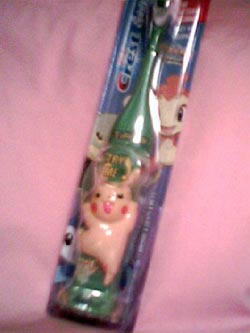 Target also restocked their school supplies aisle with Pokemon spiral notebooks with D&P cover designs, around $1.99--get ready for school finals! And then when you're done, go fly a kite!--Meijer has various D&P design kites in their summer toy aisle for under $10.
I am probably a little late on this news, but, I wasn't near the internet last week. A great big thank you goes out to Kristen and Dan for donating their old PC to the Pojo news cause! The awful fuzzy pix are courtesy of a Disney Pix Click camera which I'm just figuring out how to use! I won't be dethroned as the Queene of Lo-Fi anytime soon--the PC is running Windows ME! :O LOL! ;)
Since Target was still running Jakks specials on Pokemon toys as of yesterday, I'm afraid toy news will have to wait, although I did spot some newer Jakks figures at TRU. I'm waiting on the mini plush, I'll let ya know when I spot 'em! ;)
Pika!
Loretta