I just got back from Barnes and Noble bookstore and I have in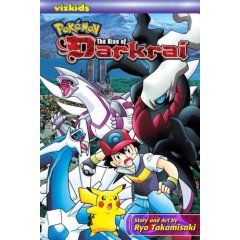 hand my Vizkids manga, Pokemon: The Rise of Darkrai, $7.99 list. Amazon says it's in stock:
http://www.amazon.com/Pok%C3%A9mon-Rise-Darkrai-Ryo-Takamisaki/dp/1421522896/ref=pd_bbs_sr_2?ie=UTF8&s=books&qid=1212172215&sr=8-2
The Pokemon Ranger and the Temple of the Sea manga seems to now be slated for August 5, 2008, so, I'll keep my eyes open for changes to that date. No time to read/review now, but, it is translated Japanese manga, so, I'm looking forward to this! (Yes, let's not remember Pikachu Meets the Press... I do prefer authentic Japanese manga, that's just my own personal taste! :)
Thanks to omahanime for reminding us all to hit TRU today or Sunday, 12-4PM, to download Darkrai onto our D&P DS packs!
Pi!!!
Loretta