Coming at ya on the Saturday before Memorial Day, back from a very successful Wal-mart outing. As you can see from the attached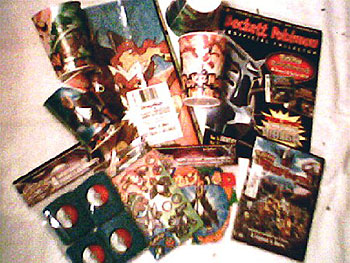 picture, American Greetings continues its partnership with Pokemon by bringing you party supplies just in time for the summer holidays! Colorful plastic table covers, paper plates, plastic cups, birthday streamers and printed crepe, stickers, napkins, party favors (such as the Poke ball wristbands shown)--all embellished with Pokemon designs! Available at everyday discounted Wal-mart prices! Glad to see this stuff back on store shelves; I think I still have some old swag from the original generation of Pokemon!
Beckett's magazine this month has a very useful section for younger Pokemon fans going to conventions this summer who wish to purchase Pokemon single cards for their collection: an article which outlines the identifying marks for each expansion of the Pokemon TCG! This will help when trying to look up the value of a particular card on the fly. I know I was thinking about setting up a spreadsheet for my cards and I was wondering about keeping all those expansion markings straight!
Finally--I had been reading on the web this past week that some fans found the new Darkrai DVD at Wal-mart already. As you can see by my grainy Pix Click picture, indeed, this rumor is true. I sure hope Wal-mart (and the anime shops which shipped early) doesn't get into any hot water over this because, frankly, the DVD timing was a bit off for me because I work full time and was disappointed it would be released the day after a 3 day holiday--knowing I'd have to wait until the next weekend to view my prize. However, now, I am planning on watching ASAP! Yay! $14.96, if you swing by Wal-mart.
I, too, would like to thank omahanime for the

great card/gift set scans. I don't have a scanner yet, so... I did see that nice Darkrai gift box, but, didn't have a way to get you the great pix. I've also seen a new blister pack containing 3 assorted boosters, topped by a POP6 foil of your choice, Piplup, Turtwig or Chimchar, approx. $9.99, spotted at Meijer and Wal-mart. At this point, let's celebrate the new DVD and super-cute "majestic" ;) new TCG expansion while we wait to see what new Jakks toys will be arriving, hopefully soon! Pika-pi!
Loretta