Just a quick report and a few pix of some new stocking stuffers for ya. First off, I'm not sure if anyone has posted scans yet (omahanime-?), but I spotted a new poster gift set at Meijer over the weekend containing a TCG checklist poster, a theme deck, 3 boosters and a Lucario promo foil. I also spotted the Heatran and Regigas tins available at both Meijer and Target.

For stocking stuffers, my local Japanese market recently got in larger size Bandai candy-toy figures, 4 styles from the Shaymin movie and more notably, two large boxes containing 5 small figures each from the Shaymin movie! Check out the pix! The Pikachu from the one set is meant to be placed/displayed next to the Pochama (Piplup) from the other—too cute!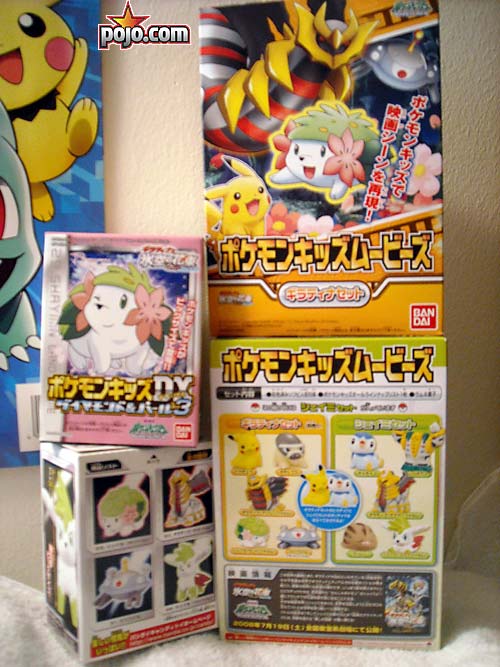 In the domestic arena, Target has again stocked some stocking stuffer size 3D puzzles including 2 different Pokemon styles! These were $2.99 in the seasonal aisle—but here's a funny story: The items were so new they did not scan at the register! I told the clerk the price noted on the shelf tag, but she still had to 999 the SKU#. Interestingly, despite that, a coupon for $1 off a Pokemon TCG tin shot out of the register after I checked out! Yo, omahanime, that ought to help you catch 'em all!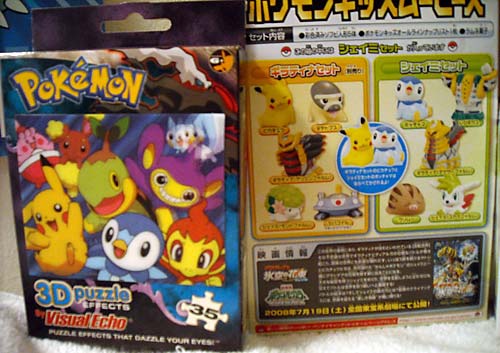 I plan to head out to Target later today to check for new items. They had again had a sale on Pokemon merch. last week, so nothing new just yet. I read on a Pokemon collector website recently that some fans had found the deluxe Jakks electronic talking plush at K-mart; but in my area still only Meijer had 'em as of this past weekend (and they, too, had a sale like Target, so nothing new just yet).

I ran into a Pokemon fan at the TRU Dragonite event (where they gave away a cool Pokemon Ranger poster—don't forget the game is due out this week!) that didn't know what Pojo.com was! As a result, she missed reading that the Morse Road TRU in Central OH had closed (and wasted time/gas driving there!) via one of my reports! I've found in order to get the most complete Poke picture, you have to bookmark several key fan and dealer sites—so don't forget to bookmark Pojo.com and keep checking for the latest in domestic big box store toy sightings! I'm usually at one store or another on a daily basis, so I'll be keeping my eyes peeled to help you with your holiday shopping! PIKA!

Loretta