So far, in Central Ohio, the only place I've found any new Jakks electronic plush has been Meijer. Remember how excited I was over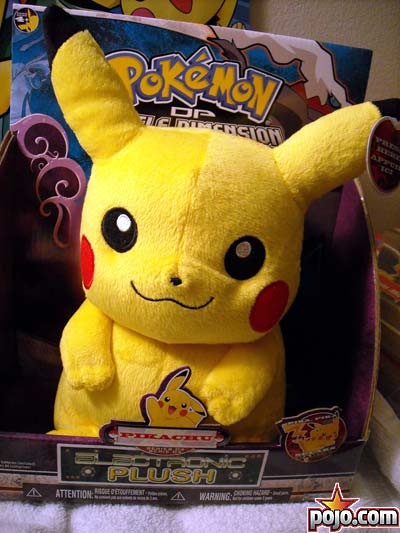 Labor Day weekend? So, imagine my surprise Saturday, seeing how I've not yet sighted any in that wave (Buneary, Pachirisu, Wobbuffet, Starly) anywhere else, upon seeing MORE NEW ELECTRONIC PLUSH! This wave is under the Battle Dimension logo and we finally get <drum roll> PIKACHU! I also saw a Happiny, really cute; the back of the box indicates that Shinx and Bidoof are in the wave also, but I did not see these yet. IMHO, Jakks has really outdone themselves on these two new waves; personally, I've found these to be the cutest of any of the electronic plush they've produced so far. I've been so spoiled on Japanese plush with their uber-cute expressions that often it's difficult for me to fall in love with the merchandise produced for the American market. Let's hope Jakks keeps up the good work! This particular Pikachu reminds me so much of Ash's Pika, I could not pass it up! $19.99, Meijer. I've seen scarce few of the new electronic plush on e-Bay; so, I have no idea yet what other stores will stock them for Christmas. Remember, I have a new TRU opening in my area in just a week. Maybe I'll have some clue by then-!
I've also enclosed a pic of two new Japanese manga I found over a week ago. One is a new Pokemon Mystery Dungeon comic. The other is Diamond and Pearl issue 5. Viz doesn't have issue 3 slated for the American market until 2009, so, close your eyes and don't look at the pic if you don't want to know! LOL! The Mystery Dungeon comic has an ad for the August 2008 Coro Coro inside; its ISBN is 978-4-09-140670-5. Chimchar and Totodile star. I don't have a handy Japanese correspondent to query, but it looks new to me and is copyright 2008 inside—does anyone know about this issue? I'll net surf when I get a chance and see if there is any information out there. You know my sloooow computer at home. J The ISBN for the DP#5 is 978-4-09-140669-9. As you can see from the cover, Hareta's Dialga dreams might be coming to a head… I guess we'll eventually see-!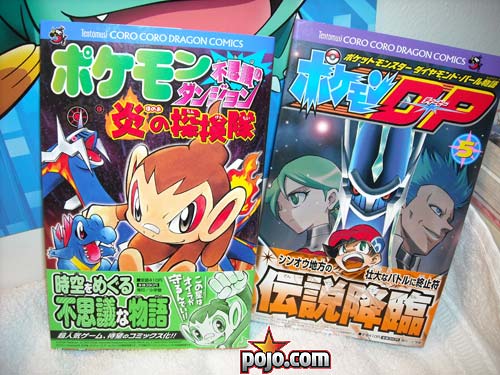 New Jakks merchandise is spottily arriving at various stores; but I'm waiting for the new mini-plush to get really excited (it doesn't take much for me, eh?). The terrible state of the economy seems to have slowed down restocking in a lot of places; it's frustrating to see new stuff on e-Bay and toywiz.com and not be able to find it at retail locally just yet. I'll try my best to keep the "where?" shopping tips coming, as I know parents will be hard-pressed this holiday to try to juggle their budgets and buy presents, too. Your best bet is to shop early and often, to avoid having to try to locate that last minute "I want…" at highly inflated prices online. Good luck!
Pika Pika!
Loretta