Hippitty hoppitty, the Easter Buneary has some treat news to help you create an EGGS-traordinary basket this spring! Check it out (on e-Bay of all places!):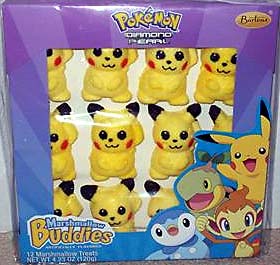 http://cgi.ebay.com/Pokemon-Marshmallow-Buddies-Easter-Candy-12-Pikachu-New_W0QQitemZ280200797560QQcmdZViewItem?IMSfp=TL0802141074a18394
http://cgi.ebay.com/Pokemon-Marshmallow-Buddies-Easter-Candy-12-Pikachu-New_W0QQitemZ280202738177QQihZ018QQcategoryZ62053QQssPageNameZW
DVWQQrdZ1QQcmdZViewItem
http://cgi.ebay.com/POKEMON-PIKACHU-BUDDIES-PEEPS-EASTER-BASKET-CANDY-NIP_W0QQitemZ270213965535QQihZ017QQcategoryZ2605QQssPageNameZWDV
WQQrdZ1QQcmdZViewItem
The marshmallow Pikachu "piips" are available at Toys 'R' Us for $1.99, manufactured by Bartons (bartonscandy.com), who also produce other Pokemon themed treats. I found mine in the Easter display aisle; other Bartons items were on the candy kiosks, like the gummy Pokeballs I've seen around since last year. Here's what looks to be the candy equivalent of Toy Fair, May 20-22, 2008, where Bartons is listed to show Pokemon goodies:
http://allcandyexpo.com/new_product_showcases.cfm?PGID=null
And here's another link mentioning the debut of the Pokemon goodies (yes, yes, I've seen a few of their treats at TRU already, last year!):
http://www.ecandy.com/Content.aspx?ContentID=6934
TRU is carrying the gumball machine by Bartons; here are some more pix of their treats, however, no Pikachu (that's why I pulled up the e-Bay listing...):
http://www.bartonscandy.biz/store/pokémon-diamond-pearl-gumball-machine-p-59.html?osCsid=d33fbe5ac9e7463bcd2ce81562550376
http://www.bartonscandy.biz/store/kids-stuff-c-11.html?page=2&sort=2a
I read on someone's online blog that Bartons treats were also found at K B Toys and they were selling fast.
The 100th issue of Beckett's Pokemon price guide 'zine is on newsstands currently--and I know one little Pokemon that is gonna need a load to treats to get over this *shocking* news: guess who didn't make the top 5 Pokemon in Beckett's poll of all-time fave Pokemon?! :O
http://www.beckett.com/estore/info.asp?T=CP&D=1682&eskin=subPOKEMON
I am thinking someone at Hot Topic marketing must've had insider info on this account--and if you've been shopping there lately, you probably have a clue about who Beckett's is saying is #1:
http://search.hottopic.com/search?p=Q&ts=custom&lbc=hottopic&w=jigglypuff
I'm wearing my hoodie as I type this...
http://www.hottopic.com/hottopic/store/product.jsp?FOLDER%3C%3Efolder_id=2534374302028382&PRODUCT%3C%3Eprd_id=845524442172306&bmUID=1203946472017
Awww, Pikachu, Buneary and Ash still luv ya! Pi!!!
Loretta