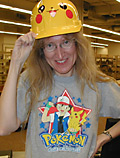 Loretta
Pokemon Home

Pokedex

Price Guide Set List

Message Board

Pokemon GO Tips

Pokemon News

Featured Articles

Trading Card Game
- Price Guide
- Price Guide
- Card of the Day
- Professional Grading
- Killer Deck Reports
- Deck Garage
- William Hung
- Jason Klaczynski
- Jeremy's Deck Garage
- Johnny Blaze's Banter
- TCG Strategies
- Rulings Help
- Apprentice & Patch
- Apprentice League
- Spoilers & Translations
- Official Rules
- Featured Event Reports
- Top of the World
- An X-Act Science
- Error Cards
- Printable Checklist
- Places to Play

Nintendo Tips
- Red/Blue
- Yellow
- Gold & Silver
- Crystal
- Ruby & Sapphire
- Fire Red & Leaf Green
- Emerald
- SNAP
- Pinball
- TCG cart
- Stadium
- PuPuzzle League
- Pinball: Ruby/Sapphire
- Pokemon Coliseum
- Pokemon Box
- Pokemon Channel

GameBoy Help
- ClownMasters Fixes
- Groudon's Den
- Pokemon of the Week

E-Card Reader FAQ's
- Expedition
- Aquapolis
- Skyridge
- Construction Action Function
- EON Ticket Manual

Deck Garage
- Pokemaster's Pit Stop
- Kyle's Garage
- Ghostly Gengar

Cartoon/Anime
- Episode Listing
- Character Bios
- Movies & Videos
- What's a Pokemon?
- Video List
- DVD List

Featured Articles

Pojo's Toy Box

Books & Videos

Downloads

Advertise With Us
- Sponsors
- Links

Chat

About Us
Contact Us
Magic
Yu-Gi-Oh!
DBZ
Pokemon
Yu Yu Hakusho
NeoPets
HeroClix
Harry Potter
Anime
Vs. System
Megaman

Loretta's Pokemon Toy Blog
New Jakks items
January 25, 2008
Everywhere I look, Pokemon shelves are being stocked with new items. The larger plush with sound are showing up on the web, so, I'll be off to TRU to see if these have arrived locally. Jakks is issuing Grotle, Prinplup, Monferno and Croagunk; here are some random scans from the web:
http://search.ebay.com/search/search.dll?from=R40&_trksid=m37&satitle=pokemon+plush+sound&category0=
http://www.toywiz.com/pobpapltorog.html
Jakks Battle Link toys are being stocked at Target and Wal-mart. You can finally see the Raichu/Pikachu set on this page, along with the other new items like Buneary, Shellos, etc. with the action bases:
http://www.toywiz.com/pobpaplactoe.html
If you happen to be at a mall over the weekend, stop by Hot Topic again; they are starting to get more new clothing, including an awesome new adult size hoodie, white, with a repeating pattern of Pikachu, Meowth, Bulbasaur, Squirtle, Charmander and Poke Ball all over. The item is somewhat pricey, $50; however, last weekend they were having a $10 off selected merchandise sale, so, keep your eyes peeled for specials. They also tend to have t-shirts on sale a lot, buy 2 get one free; so, don't despair if your after-holiday budget is tight. Sales are surely on the way at some point...
Unfortunately, I have yet to see the Pokemon Valentines with candy locally.
http://cgi.ebay.com/POKEMON-DIAMOND-PEARL-VALENTINES-CARD-PARTY-FAVORS_W0QQitemZ280194608315QQihZ018QQcategoryZ1524QQssPageNameZ
WDVWQQrdZ1QQcmdZViewItem
This puzzles me, as Wal-mart and Target seem to do a hopping business with the TCG and toys... If anyone sees these, please let us know what retailer is stocking them. I also have yet to find D&P bedding locally, despite the stuff being all over e-Bay. For a test market city, I'd like to see a little more testing where I live! ;)
Since it's so cold outside here, I can't help but think of Christmas... yes, my tree is still up-! I want to share a cute pic:
http://www.theintoy.co.uk/product_info.php?products_id=3370
Pojo thought these were cute, but, I could not find a U.S. retailer picture on the web. I can tell you, though, that California and Central Ohio Anime Palaces have received a few of these holiday plush and will be heading out to conventions within the next few weeks. Unfortunately, the owner has not updated his website and these items are sure to sell quick. I bugged the "manager" at the Central Ohio store to ask the owner to post a convention schedule on his site; I think what is up is last year's! :O I imagine other anime stores will have similar Banpresto fare at the conventions; stuff just took a while to get through customs with all the precautions for safety, etc. It shouldn't be surprising to find Xmas items in February! :) Happy Cosplaying! Pika!
Loretta

Copyrightę 1998-2007 pojo.com
This site is not sponsored, endorsed, or otherwise affiliated with any of the companies or products featured on this site. This is not an Official Site.