POKÉMON TRADING CARD GAME EXPANSION MYSTERIOUS TREASURES UNLEASHES NEW POWERS
Expansion Adds More Diamond & Pearl Pokémon to Seek, Find, and Catch!

BELLEVUE, Wash.—June 25th,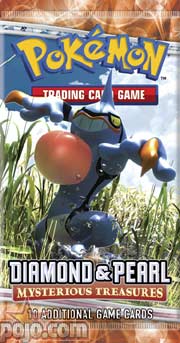 2007—Pokémon USA, Inc., a worldwide leader in the trading card game industry, today announced the latest Pokémon Trading Card Game expansion, Pokémon TCG: Diamond & Pearl—Mysterious Treasures, to be released on August 22nd. The expansion features over 120 cards, including 25 new Pokémon for players to collect for the very first time.
In Mysterious Treasures, players will discover more amazing Pokémon for the very first time. New Fossils that evolve into powerful Pokémon… Legendary Psychic Pokémon that are even more powerful when played together… Pokémon with Berries that give them extra protection… and additional Pokémon LV.X all come together to make Mysterious Treasures worth seeking!
The Pokémon TCG: Mysterious Treasures expansion will be available in two 60-card theme decks—Armor Fortress and Skull Charge—and in booster packs. Theme decks and booster packs go on sale in stores on August 22nd, priced at $11.99 for the theme decks and $3.79 for the booster packs. Each booster pack features 10 randomly inserted game cards. Theme decks include a unique coin, an updated rulebook, card list, a one-player playmat, and damage counters.


For more information, visit www.go-pokemon.com.
Here is a look at some of the cards from this upcoming expansion: