Yesterday was a yummy shopping trip to the Japanese grocer where I found Pokemon pancake mix that includes [food coloring?] tattoos to decorate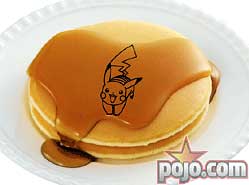 the hotcakes and also two different packages of rice seasonings. You can see these here on the company's official website:
http://www.marumiya.co.jp/product/0515/index.html
Now for the big news--the Target I visited yesterday had already pulled the Legend Maker placard from the trading card display aisle, even though the cards have yet to hit the shelves (I believe the official release date I saw quoted on the web was Feb. 15). In its place... remember the EX trainer kits with Latios/Latias foils?!--well, it appears a NEW trainer kit is set to arrive sometime hopefully soon! The stars?!--Plusle and Minun! I say "CHEER!" I have not been able to find a picture of this product on the web; tried the TCG site and several card dealers, e-Bay, etc. It's that new. One can hope it wasn't a mirage in the weary shopper's eyes. In the meantime, I plan to cuddle my new Lucario and Bonsly plushes--and meditate over why we haven't heard a release date for the new movie yet (anyone know anything?).
Loretta