I was away from the PC all last week, but, I was out and about shopping. I spotted a few new items:
Legendary Dogs (Pokemon USA) carded TCG gift packs--your choice of one of the 3 legendary dog promo cards packed with 2 assorted Ex boosters (Unseen Forces, Delta Species; pack art coordinates with promo card). Target. $6.99 I believe.
New Hasbro 10th Anniversary electronic trainer ga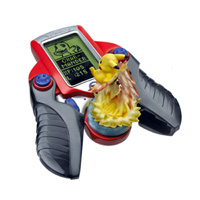 me set; basically, a repackaging of the prior toy with a new Pikachu sculpt game piece and also a Groudon game piece. Target. No price noted on shelf (new item!).
The Mystery Dungeon hardware cases I mentioned I found at Target the other week have shown up at TRU in a gift pack. Also included in the packs are game cartridge cases and Pokemon stickers to decorate! Unfortunately, there was no price sticker on the peg where they were hanging--and I'm not too thrilled about how my local TRU has rearranged their vidgame section: I'm 5'8" and I was straining to see the top shelf of Advance games! They are shelved like DVDs, you go through alphabetically; whereas prior, yes, they were alphabetical, but, the slots were springloaded and one title per slot. Now, you have to strain to reach/look and the titles are one behind another and I could not see easily. Shame on you TRU, especially after all the years I've shopped there! I don't know how kids will be able to see the top shelf......... I think TRU rearranged to make room for Wii. I guess they think no one will be buying Advance anymore, so, it doesn't matter how the games are racked up? Hmm.
I'll end this on an up note, though--FREE issue of Animerica, Best Buy, cover story on Lucario and the Mystery of Mew DVD! There's also a calendar of Viz DVD releases so you won't forget to pick up the upcoming Poke DVDs! There are too many to list; hit amazon.com and search--I'm dying to see the season 1 box set as I never collected all the VHS tapes! Viz is also putting out best of manga for Red and Yellow (you do remember Yellow Caballero, now, don't you?!); I saw the Red manga already on Borders' shelves. Ten wonderful years, no? :)
Loretta