The new (Feb 2006/#130) issue of _Inquest Gamer_ features a 1/2 page article (no pix, oddly) on the upcoming Pokemon USA release of a Pokemon Trading Figure game in Europe and Australia. We've mentioned this game before; now the well-known gaming magazine points out what we were wondering all along--why no U.S. release?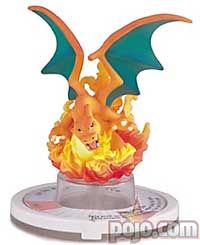 http://www.pokemon-figures.com/
The Heroclix-style figures are being produced via Kaiyodo, which also produced 3 sets of figures for Tomy over the last 2 years. I originally procured most of the set released in 2004; I was only able to snag a little over half from the 2nd/3rd concurrent sets (trading figures--i.e., you don't know what figure is in the box, and these didn't come cheap...). A U.K. collector has 11 of first set posted on e-Bay; Tomy pulled the pictures/Japanese instructions from their site (or at least I cannot locate the info at this point, it is in Japanese).
http://search.ebay.com/search/search.dll?cgiurl=http%3A%2F%2Fcgi.ebay.com%2Fws%2F&fkr=1&from=R8&satitle=tomy+kaiyodo+pokemon&category0=
Also in the new _Inquest_ is a full page ad for the new Legend Maker TCG expansion slated for next month pre/release. Mew is the star!
http://op.pokemon-tcg.com/content/events/faqs/2005-2006/legend_maker_prerelease_faq.asp
Lastly, Target has 2005 Pokemon toys/games marked down, many 75% off this week, if you can find anything left on the clearance rack.
TGIF! If you're in the mid-Ohio area, here's an event for the weekend, altho' a bit pricey IMHO:
Many of the dealers slated
(http://forums.ohayocon.com/viewtopic.php?t=1105) had at least some Poke-goodies last year; I hope this holds true again and mebbe IF I bite the bullet and pay the IMHO exorbitant Sat.-only fee, I might find something........... :)
Loretta (who wants to be Yellow Caballero if ever forced to cosplay! Pika!)