Pojo's Pokemon GO Tips

August 9, 2016
How do I use Pokemon GO IV Calculator for Android?
First off, if you don't know about Pokemon IV's are yet, we wrote an article yesterday titled: "What are Pokemon IV's". We explained what IV's are and how to calculate them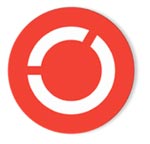 online. If you aren't familiar yet with IV's, click this link and read that first.
Today we're going to show you how to use this fantastic app: "IV Calculator for Pokemon GO" by AndCreate. You can download it from the Google Play store. It has the symbol shown here on the right.
There are several IV calculators to pick from online, but this is the one that my friends & family been using, and we like it a lot. So let's get started:
Start IV Checker
I'm not going to show you how to install this app. I assume you know how to install apps by now. After you install the app, and hit the "Start" button, your screen should look something like this (assuming an update hasn't changed it).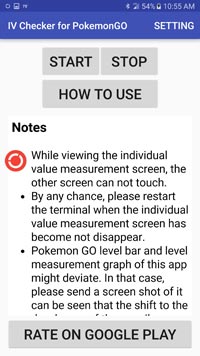 When you hit the start button, the Red IV Calculator button will appear on the left side of the screen. Don't freak out, because it will stay there until you close the app, no matter what program you are in. You can close the app at anytime by hitting Stop, or from the Android Pull Down menu.
Start Pokemon GO
Now that IV Checker is running, hit your HOME button on your Android device to return to the main home screen and start Pokemon GO. You will notice the Red IV Calculator Button is still on top of your game. This is fine, as this is the way the Calculator operates. (Note: You can drag the Red IV Calculator Button to either side of the screen, and up & down).
Now navigate to your Pokedex and Pick a Pokemon to rate. I'm going to use one of my High CP Bulbasaurs I caught in the wild as an example. Your screen should now look something like this: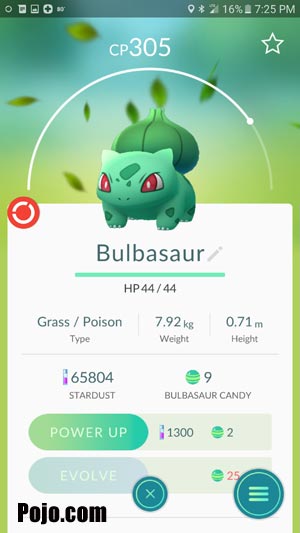 Now Hit the Red IV Calculator Button
And your screen should look something like this: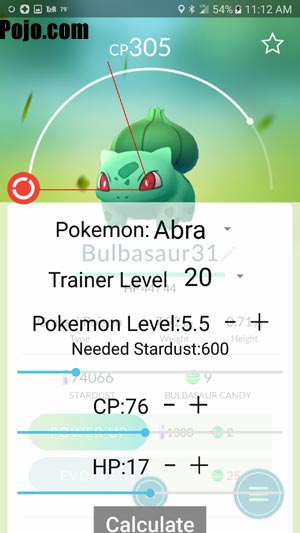 If this is your first time using the program, it can be a tad confusing, but it's very simple to learn and master. What has happened is that IV Calculator has been overlaid on top of the Pokemon GO screen so that you can easily determine your Pokémon's IV. The IV Calculator Screen is transparent enough to see your Pokémon's information underneath.
Next you have to adjust things.
Here are the Steps:
Hit the Dropdown Box by the Pokemon's Name and select the appropriate Pokemon. I'm selecting Bulbasaur.

Hit the Dropdown Box and select your Trainer Level. I'm 15.

Select the Pokemon Level. This is done by hitting the "+" - "-" and adjusting the red line to match the Arc Level of your Pokemon. You can also slide the top bar left or right with your finger. I slide it to Level 12 to match the arc.

Enter your Pokemon's CP by hitting the "+" / "-" or by sliding the middle bar with your finger. The CP is 305.

Enter your Pokemon's HP by hitting the "+" / "-" or by sliding the bottom bar with your finger. The IV Checker's screen is transparent enough to see your Pokemon's HP is you look closely. The HP is 44.
And your screen should look something like this: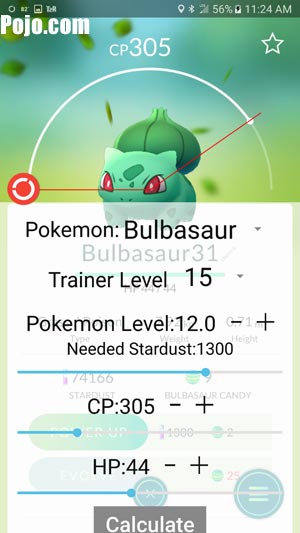 Everything should line up. The arc matches it's level perfectly, the name is correct, the CP is correct, and the HP is correct.
Now Hit the "Calculate" Button
The IV Calculator Screen should move up a bit and reveal some results. You can use your finger and drag it up higher to reveal even more information: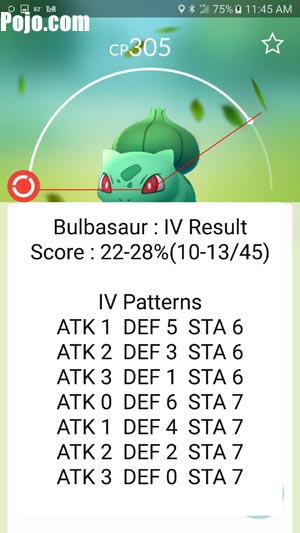 The results give my Bulbasaur here a score of 22-28%. 0% would mean that my Bulbasaur has just the Base Line Stats. These stats are telling me that if I fully evolved this Bulbasaur into a Venusaur, that my Venusaur would be 22% to 28% better than a Base Line Bulbasaur.
This guy isn't very strong. An average Bulbasaur would rate 50%. A perfect Bulbasaur would rate 100%. These percentages stay with the Pokemon even when you evolve them.
The IV patterns are the possible predictions that could happen to Attack, Defense & Stamina if I leveled this guy up.
All in all, this is a pretty crappy Bulbasaur. If I want to have a better Venusaur, I would need to catch or hatch a better Bulbasaur.
For comparison, Here is a Bulbasaur I hatched from an Egg. Note that his CP (77) is way lower than the Bulbasaur I caught in the wild (305).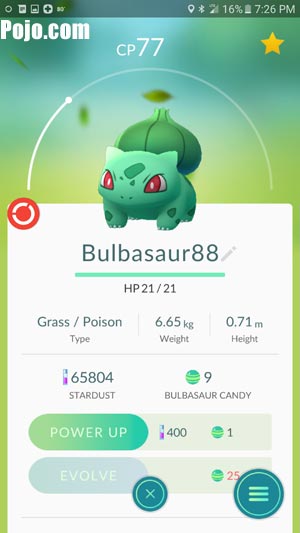 Now let's run the stats in the IV Calculator: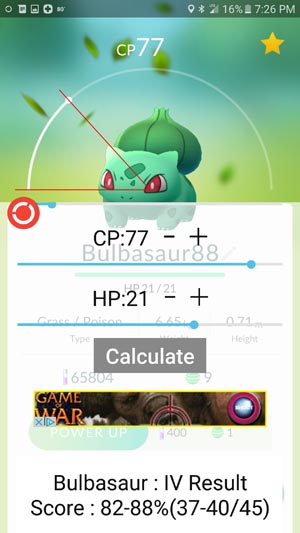 This lower CP77 that I hatched from an egg actually yields a Score of 82-88%. He will grow up to be a much stronger Venusaur once fully evolved compared to the first one I evaluated.
So don't judge a Pokemon on CP alone. If I tossed away this low level CP Bulbasaur, I might have missed the chance to have a pretty strong Venusaur.
Run the stats, and keep your high level Pokemon. Evolve them and pray for some good attacks!
Okay, what do I do in IV Checker now?
If you feel stuck in IV Checker at this point, you aren't. The red button from the IV checker will act as a toggle. You can click it on and off, and the overlay will disappear and reappear. This allows you to choose more Pokemon. You can also close the app at anytime by opening it and hitting Stop, or from the Android Pull Down menu.
We usually transfer any Pokemon that has a score under 50% right back to Professor Willow, unless it is super rare and you don't have anything better.
If we are keeping the Pokemon, we usually give the Pokemon the "Favorite Star", and we usually rename the Pokemon to reflect the results. Something like this: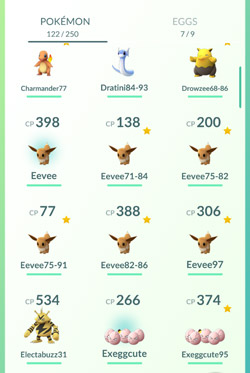 My personal Pokemon naming screen explained: I have a better than average Charmander, but would like to find a 90%+ one. I have a good Dratini (84-93%), a great Eevee's and great Exeggute. I only have caught a couple of Electabuzz, so I'm keeping the 31%, the best I have right now. I even have a 100% Goldeen (image below).
Other Pokemon Tips from Yesterday:
Pokemon Hatched from Eggs are usually high level Pokemon. We usually give them the "favorite star" as soon as they hatch so that we don't accidentally transfer them to Professor Willow. Don't be too mad when you get a Pokemon from an egg you already have in your Pokedex. Generally it will be a really strong Pokemon!
Also, Pokemon GO will not let you transfer favorite Pokemon to Professor Willow on accident. You would have to Unfavorite a Pokémon to trade it in for candy.
Are there Other IV Checkers?
Yes, there are many more IV checker apps & online sites that you can use. Many are very good. Yesterday we reviewed the Silph Road Online Calculator. You should research the others as well. Find one you like and get comfortable with it. I don't own an iphone, so I can't test their IOS apps.
Is there such a thing as a perfect Pokemon?
Do any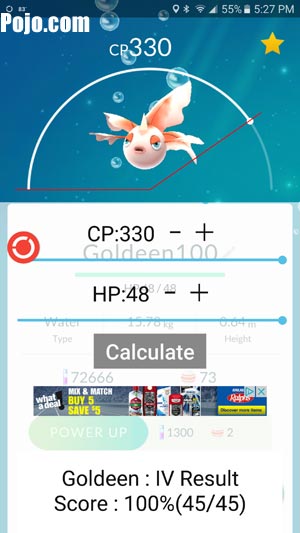 Pokemon have perfects stats?
Yes there are perfect Pokemon, but they can be pretty rare to find. You may find a couple by the time you're level 20. Make sure you raise those Pokemon to their utmost capabilities, and pray you get some good attacks along with those great stats.
Does all this work really make a difference?
A little. Not much, but a little. All Pokemon have Base Statistics. You can find charts online, and in future Pojo books. All Pokemon will at least have their base statistics. Some will have their base statistic plus a little extra. That little extra can be a random # from 0-15 to each of their Hidden Stats.
So if you have the absolute worst Pokemon, you have at least the baseline. The average Pokemon of the same type would be about 5% better, and the absolute perfect Pokemon would be about 10% better.
So if you are a person that needs the absolute best Pokemon, use the IV checker. If you really don't care, just take the highest CP Pokemon you have and max it out. It'll probably only mean 5% difference on average anyway, and will probably save you some candy. ;-)