Pojo's Pokemon GO Tips

August 8, 2016
What are Pokemon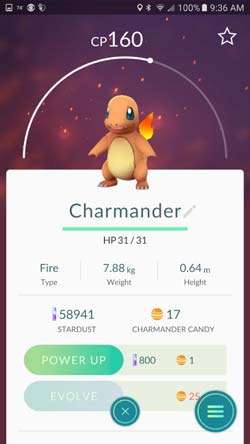 GO IV's?
Well, first off, let us all say this correctly. We've met people playing Pokemon GO calling them "Pokemon Fours". IV stands Individual Value, not the Roman Numeral Four. So the proper lingo is "Pokemon eye-vee". ;-)
So what is a Pokémon's IV then?
Every Pokemon you catch in Pokemon GO has hidden stats. These hidden stats are Attack, Defense and Stamina. Now when you catch a Pokemon, you see each Pokemon's CP, the Pokemon CP Arc (the semicircle over the Pokemon) and the Pokemon's Hit Points (HP). CP stands for Combat Power and it a simple statistic based on averaging out the Pokemon's Hidden Stats.
Each individual Pokémon is assigned CP at capture, which indicates how well that particular Pokémon will perform in battle. Not all Pokémon have the same CP - for example, if you have caught two Charmander, they will not necessarily have the same CP.
Now, it is a safe assumption to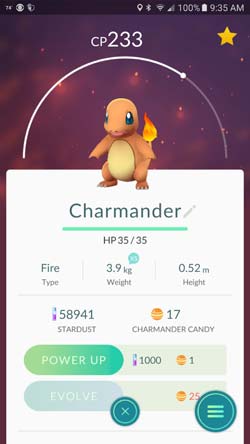 say that Pokemon with higher CP will generally do better in Gym Battles. But, it is NOT a safe assumption to say that a Pokemon with a higher CP will always be stronger than a Pokemon with Lower CP. Even two Pokemon with the same CP might not be equal.
Once fully Powered Up and Evolved, the Lower CP Pokemon might actually be way stronger in the end.
So do not just simply toss lower CP Pokemon aside because you have a higher CP one in your Pokedex. Run some stats!
So how do I determine my strongest Pokemon?
Well, this is where IV checkers come in. The CP, the CP arc position, and Pokémon's hit points all effect the final strength of the Pokemon.
An IV checker will determine your Pokémon's Hidden Values and make it easier to compare Pokemon at different levels. The IV checker will help you determine which Pokemon to keep and level, and what Pokemon to transfer to Professor Willow.
How do I use an IV Checker?
There are several IV checkers online. One of the easiest one for newbies to use is the "IV Rater" at Silph Road. Here is how you use it:
Select your Pokémon's Species

Slide to your existing trainer level

Slide the CP Arc to match your Pokémon's arc. (This can be a little tough to eyeball. A protractor helps. So does knowing all Pokemon you catch in the wild are "whole #'s, with no decimal points" - if you haven't powered them up at all)

Slide to the Pokemon's CP

Slide to the Pokemon's HP

and hit "Rate my Pokemon"
The IV checker will give one of 5 results from bad to great:
OH DEAR. YOU ... MAY WANT TO SEND THIS ONE TO THE PROFESSOR. AFRAID IT'S NOT GONNA BE COMPETITIVE, TRAVELER. :/

THIS MON'S IV'S ARE A LITTLE WORSE THAN 'MIDDLE OF THE ROAD' IT SEEMS, TRAVELER.

NOW THAT'S A PRETTY SOLID MON, YOU'VE GOT THERE. NOT PERFECT, BUT DEFINITELY A DECENT FIGHTER!

NOW THAT'S A PRETTY SOLID MON, YOU'VE GOT THERE.

WOW, TRAVELER. THIS MON HAS PERFECT IV'S! HANG ON TO THIS ONE!
These results make it easy to determine which Pokemon you want to keep. We quickly transfer our Pokemon to Professor Willow if we get the first two (bad) results. We generally keep the rest until it comes to evolution time. We give the keepers the "Favorite" Star as soon as we make the decision to keep them. This way you know you've already reviewed them too.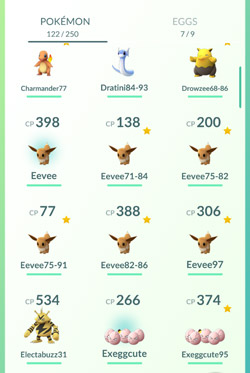 ;-)
Tip: It's helpful to rename your Pokemon after you calculate their rating. If your Eevee is rated "71-84", rename it "Eevee71-84". That will help you ultimately decide who to dismiss, keep and evolve.
Another Tip - Pokemon Hatched from Eggs are usually high level Pokemon. We usually give them the favorite star as soon as they hatch. Don't be too mad when you get a Pokemon from an egg you already have in your Pokedex. Generally it will be a really strong Pokemon!
Also, Pokemon GO will not let transfer favorite Pokemon to Professor Willow on accident. You would have to Unfavorite a Pokémon to trade it in for candy.
Are there Other IV Checkers?
Yes, there are other IV checkers online that you can use. Many are very good. You should research the others as well. Find one you like and get comfortable with it. There are also some IV Checker Apps. We will review one we love for you very soon.
Is there such a thing as a perfect Pokemon?
Do any Pokemon have perfects stats?
Ye, but they can be pretty rare to find. But you may find a couple by the time you're level 20. Make sure you raise those Pokemon to their utmost capabilities, and pray you get some good attacks along with those stats.
Does all this work really make a difference?
A little. Not much, but a little. All Pokemon have Base Statistics. You can find charts online, and in future Pojo books. All Pokemon will at least have their base statistic. Some will have their base statistic plus a little extra. That little extra can be a random # from 0-15 to each of their Hidden Stats.
So if you have the absolute worst Pokemon, you have at least the baseline. The average equal Pokemon would be about 5%, and the absolute perfect Pokemon would be about 10% better.
So if you are a person that needs the absolute best Pokemon, use the IV checker. If you really don't care, just take the highest CP Pokemon you have and max it out. It'll probably only mean 5% difference on average anyway, and will probably save you some candy. ;-)