Pokemon Home

Pokedex

Price Guide Set List

Message Board

Pokemon GO Tips

Pokemon News

Featured Articles

Trading Card Game
- Price Guide
- Price Guide
- Card of the Day
- Professional Grading
- Killer Deck Reports
- Deck Garage
- William Hung
- Jason Klaczynski
- Jeremy's Deck Garage
- Johnny Blaze's Banter
- TCG Strategies
- Rulings Help
- Apprentice & Patch
- Apprentice League
- Spoilers & Translations
- Official Rules
- Featured Event Reports
- Top of the World
- An X-Act Science
- Error Cards
- Printable Checklist
- Places to Play

Nintendo Tips
- Red/Blue
- Yellow
- Gold & Silver
- Crystal
- Ruby & Sapphire
- Fire Red & Leaf Green
- Emerald
- SNAP
- Pinball
- TCG cart
- Stadium
- PuPuzzle League
- Pinball: Ruby/Sapphire
- Pokemon Coliseum
- Pokemon Box
- Pokemon Channel

GameBoy Help
- ClownMasters Fixes
- Groudon's Den
- Pokemon of the Week

E-Card Reader FAQ's
- Expedition
- Aquapolis
- Skyridge
- Construction Action Function
- EON Ticket Manual

Deck Garage
- Pokemaster's Pit Stop
- Kyle's Garage
- Ghostly Gengar

Cartoon/Anime
- Episode Listing
- Character Bios
- Movies & Videos
- What's a Pokemon?
- Video List
- DVD List

Featured Articles

Pojo's Toy Box

Books & Videos

Downloads

Advertise With Us
- Sponsors
- Links

Chat

About Us
Contact Us
Magic
Yu-Gi-Oh!
DBZ
Pokemon
Yu Yu Hakusho
NeoPets
HeroClix
Harry Potter
Anime
Vs. System
Megaman

Pojo.com's Pokémon XD - Gale of Darkness Give-Away!! Pokemon Trivia Contest
Below are the answers to the 12 Pokemon Trivia Questions for our Pokemon XD Giveaway.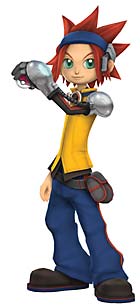 Red/Blue – Who gives you the Pokeflute? - Mr. Fuji
Red/Blue - What's the name of the Lickitung you get via trade on Route 18? - Marc
G&S – How man Kimono Girls do have to defeat in order to obtain HM03 (Surf) in Eckruteak City - Five
G&S – What day of the week can you catch Lapras? - Friday
Stadium – What Pokemon do you use in the minigame "Dig Dig Dig"? - Sandshrew
Stadium 2 – After you beat your rival, you obtain a Farfetch'd. What special (unique) move does he know? - Baton Pass
Snap – What Pokemon appears on all 6 main courses? (excluding the Rainbow Cloud Bonus level) - Magikarp
R&S - Where is the only place to catch a Snorunt? - Shoal Cave
R&S – What are the names of the Interviewer and Cameraman you run into several times while playing this game? - Gabby & Ty
Emerald – In the Battle Palace, What 3 Pokemon does Spenser use first? - Crobat, Slaking, Lapras
FR/LG – Where is Lorelei from? Four Island
In what Pokemon Video Game can you challenge Imakuni? - Trading Card Game for the Gameboy

Copyright© 1998-2005 pojo.com
This site is not sponsored, endorsed, or otherwise affiliated with any of the companies or products featured on this site. This is not an Official Site.