Pojo's Unofficial Dragon Ball Z - Book 3.
Well, our DBZ Books have been so successful that we went for #3! This time we concentrated a little more on the Collectible Card Game, but there's still some Bios & Storyline information to help newbies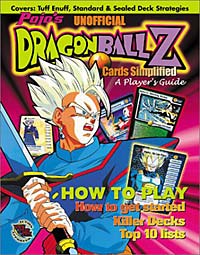 understand the background of Dragon Ball Z
Pojo's Unofficial Absolute Dragon Ball Z - Cards Simplified has everything you're looking for in a new DBZ title. You can order from PC right now from Amazon.com! It's 96 pages, and jam-packed with the goods and great card images of uber rare cards!
Here's what you'll find inside:
History of DBZ
Eric Gerson, our Bios specialist has some basic DBZ Storyline informaion, and character information on the history of Dragon Ball Z
Understanding the Dragon Ball Z Collectible Card Game

Understanding the Dragon Ball Z Collectible Card Game

Jesse Zeller provides a basic explanation of what types of cards there are, and what they do.

Dragon Ball Z CCG History

IQ has a brief history of the Collectible Card Game, and a history of tournament play.

Getting Started

Not sure where to start or what to buy? Weíve got a few details for you here.

Beginnerís Guide to Deck Building

Jesse Zeller has some tips to building a winning deck.

Approach to Winning

Richie Williams some tips on beating your opponent

Standard Killer Decks

Hereís a few decks you can playtest. (Deck Builders: Richie Williams, Trunks the Swordsman, Chibi & DaKrillin)

Cheap @$$ Decks

On a tight budget? Donít have a ton of money to buy those expensive cards? We teach you how to build winning decks on a shoestring budget. (Deck Builders: IQ, Matthew Low & SonKakarot)

Are you Tuff Enuff?

Tuff Enuff is a format entirely different from the Standard Environment. We explain the details on building Tuff Enuff Decks, and provide a few Killer Decks you can try. (Deck Builders: SonKakarot, Richie Williams & IQ)

Sealed Deck Environment

Sealed Deck tournaments are a fun change of pace from preconstructed events. We explain how to play, and provide some deck building tips.

Premiere Events

Huge Dragon Ball Z Tournaments take place year round. We explain what they are, and why you should participate.

Top 10 Lists

We look at the Top cards from every set printed through the Babadi Saga.

Top 20 Collectible Cards

Some people arenít players. They are just collectors. Hereís a list of what we think are the best cards to add to your collection.

Online Resources - A list of websites that provide help to gamers


Pick one up today at Amazon.com!