Pojo's Unofficial Absolute Dragon Ball Z!
Well, it's been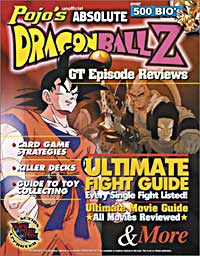 more than 2 years since we created our first DBZ Magazine/Book. And now we finally have a follow-up to that first book. Pojo's Unofficial Absolute Dragon Ball Z has everything you're looking for in a new DBZ title. You save a couple of bucks by buying it right now from Amazon.com! It's 128 pages, and jam-packed with the goods!
Here's what you'll find inside:
Is anime your thing?
We've updated & expanded the bios from the first book. There's now Bios for more than 500 Dragon Ball, Dragon Ball Z, and Dragon Ball GT characters. The Bios section is 51 huge pages long!
There's an Ultimate Fight Guide with details on every fight from Manga.
There's a fantastic & detailed guide to figure & toy collecting
Eric has the Ultimate Movie Guide with ratings & reviews of every single Movie & Special ever produced for the Dragon Ball/Z/GT Storyline.
We finish up the Dragon Ball Z Episode Reviews we started in our first book. Our first book had Reviews/Summaries for every single DBZ Episode up through the Android Saga. We pick things up from the beginning of the Cell Saga and go right on through to the end of the Buu saga.
And we know you guys want to know about Dragon Ball GT ... so how about an episode summary of every single Episode of DB GT too!
Are you into the Collectible Card Game? We've got 16 pages about the CCG
Our friend IQ, has Top 10 lists for all the sets
Jesse Zeller, IQ & Brian Valdez contribute some strategy articles as well.
Into the Video Games??
Douglas has reviews of the Legacy of Goku and the DBZ CCG for the Game Boy
And just for the fun of it, we tossed in a handful of 3D images & some free 3D glasses!
Pick one up today at Amazon.com!