Main
Main Page
Message Board
Interviews
Who'd Play Who?

Trading Card Game
Scores CCG Section
Bandai Card of the Day
Old Killer Decks
Tips & Strategies
IQ's Crew
CCG Spoilers

Episode Summaries
U.S. Dubbed DBZ
U.S. Dubbed DB
U.S. Dubbed DBGT
Jap. Fansub DB
Jap. Fansub DBZ
Jap. Fansub DBGT
Movies

By Fans
DBZ Editorials
Episode Summaries
Manga Reviews
DBZ Song Parodies
Fan Fiction
Time Travel
Theory
Voice Overs
What If...?

Information
Adventure History
Akira Toriyama
Attack List
Before Dragon Ball
Biographies
Character Appearances
Character Deaths
Daizenshyu Guide
DB Summary
DBZ Summary
DBGT Summary
Dialogue Scripts
Dragon Balls
Dragon Ball GT Info
Dragon Ball Mix-Ups
Dragon Ball Time Line
Dragon Ball Wishes
Dragon Ball World Guide
Every Single Fight
Final Battle!
Jap. Game Reviews
Growing Up
Guides
Important Numbers
Item Guide
Japanese Lessons
King Kamehameha
Lyrics
Merchandise Guide
Movie Reviews
Name Puns
Name Translations
Newbie Guide
Power Levels
Relation Charts
Red Ribbon Army Ranks
Room of Spirit and Time
Saiya-jin Forms
Special Attacks
Tenkaichi Budoukai Info
Training Locations
Voice Actors

Multimedia
Daizenshyu Scans
Final Bout Scans

Video Games
Game Reviews
DBZ Sagas Walkthrough



King Kamehameha
"Ka..me..ha..m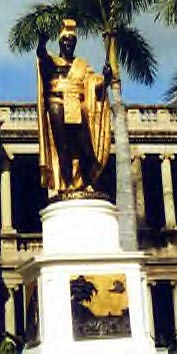 e...ha!" It's a phrase you hear a lot during the Dragon Ball series, after all; it is one of the most used moves in the series. But how did Akira Toriyama come up with it? Truth is, he didn't. While thinking of a name for the move, he asked his wife, who suggested Kamehameha. Kamehameha was actually the name of a Hawaiian King, and that's what this section is here to tell you about.
[Note] Thanks to some encyclopedia program for this information :P

King Kamehameha was also known as "The Great." He was king of Hawaii from the years 1782 to 1819. By 1810, "The Great" had united all the Hawaiian islands under his powerful rule. Ending regional warfare, he adopted uniform laws and earned his kingdom a fortune by promoting trade with Europe and the USA. Although he remained open to new ideas that could add to his people's welfare, King Kamehameha protected old Hawaiian religion and customs, and he continued Hawaiian independence during a time of Western colonial expansion.

King Kamehameha died in 1819. Though he is no longer alive, he still lives in the hearts and souls of his people. To celebrate his excellent ruling, the people of Hawaii announced June 11th as King Kamehameha Day. Besides that, his name also lives on through the heart of Dragon Ball fans, or the ones who actually care. After all, no one can ever forget "Kamehameha!"


- All material copyright of Pojo.com.
c-1999-2001
This site is not associated with Cartoon Network or TOEI Entertainment.
Dragonball Z is a registered trademark of TOEI Animation CO., LTD.