Welcome to Pojo's Dragon Ball Web
Q: Are there any job openings in the CCG section?

A: Only if you know HTML and you feel like helping maintain a section of the site.
Q: Are there any staff positions available on Pojo's Dragonball web?
A: No, right now we are in no need of new staff members, and If we are, we will find them.

Q: How do you make a Music Video?

A: We've received probably over 200 e-mails about this and instead of writing the same thing out 200x, I created a music video guide located at http://www.pojo.com/dragonball/quickeditor.shtml. So please instead of e-mailing me about this, look over the guide and if you still have trouble, then please go ahead and e-mail me.

Q: How do you make those movie clips on your page?

A: We use a device called a Video Capturing Card(V.C.C.) to capture those movies off my vcr. It is not that very expensive and can be bought around 50$-150$, depending on the quality of the device. I have ATI's All in Wonder Pro which cost most around 100$ and I have Real Producer G2 to create those movies into Real Player Format(.rm). If you decide to buy a V.C.C make sure your computer is compatible with it and if you don't know if it is compatible ask the store manager or employee.

Q: What is and will you tell me Pojo's IM name and home address?

A: Absolutely not. If Pojo wants to speak with you, he will IM you. We will not under any circumstances give away his IM and/or address.
Q: I have a suggestion for the site, who should I tell?
A: For Dragonball site suggestions you can e-mail EgoPrime or The Help Desk

Q: Why don't you have BIOS for such characters as...?

A: There are over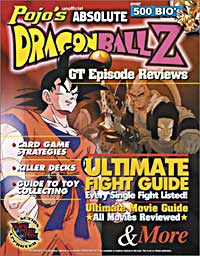 500 characters in the Dragon Ball trilogy. We covered the main ones. If you want all 500 ... buy our book. ;-) Click on the book for more information and to order from Amazon.com
Q: When is the movie coming out?

A: We dunno ... probably sometime in 2004 or 2005.
Q: Is there a Dragon Ball show or Manga after GT? Is there a Dragon Ball AF?

A: NO. Strictly False. It was a simple hoax thought up by someone as a fanfiction. All art you may have seen if completely fan made, no matter how good it is. This has been confirmed by FUNi
Q: I love your site, can I use some of your content?
A: Two things. 1- Do not directly link to our stuff, our bandwidth is skyrocketing as it is. 2- Provide credit for us on your site, we do for everyone we get things from, such as news or information.