Main
Main Page
Message Board
Interviews
Who'd Play Who?

Trading Card Game
Scores CCG Section
Bandai Card of the Day
Old Killer Decks
Tips & Strategies
IQ's Crew
CCG Spoilers

Episode Summaries
U.S. Dubbed DBZ
U.S. Dubbed DB
U.S. Dubbed DBGT
Jap. Fansub DB
Jap. Fansub DBZ
Jap. Fansub DBGT
Movies

By Fans
DBZ Editorials
Episode Summaries
Manga Reviews
DBZ Song Parodies
Fan Fiction
Time Travel
Theory
Voice Overs
What If...?

Information
Adventure History
Akira Toriyama
Attack List
Before Dragon Ball
Biographies
Character Appearances
Character Deaths
Daizenshyu Guide
DB Summary
DBZ Summary
DBGT Summary
Dialogue Scripts
Dragon Balls
Dragon Ball GT Info
Dragon Ball Mix-Ups
Dragon Ball Time Line
Dragon Ball Wishes
Dragon Ball World Guide
Every Single Fight
Final Battle!
Jap. Game Reviews
Growing Up
Guides
Important Numbers
Item Guide
Japanese Lessons
King Kamehameha
Lyrics
Merchandise Guide
Movie Reviews
Name Puns
Name Translations
Newbie Guide
Power Levels
Relation Charts
Red Ribbon Army Ranks
Room of Spirit and Time
Saiya-jin Forms
Special Attacks
Tenkaichi Budoukai Info
Training Locations
Voice Actors

Multimedia
Daizenshyu Scans
Final Bout Scans

Video Games
Game Reviews
DBZ Sagas Walkthrough

Magic
Yu-Gi-Oh!
DBZ
Pokemon
Yu Yu Hakusho
NeoPets
HeroClix
Harry Potter
Anime
Vs. System
Megaman

Pojo's Dragon Ball Product Reviews
Dragon Ball Z
Orange Goku Collage T-Shirt
Review Date: July 26, 2013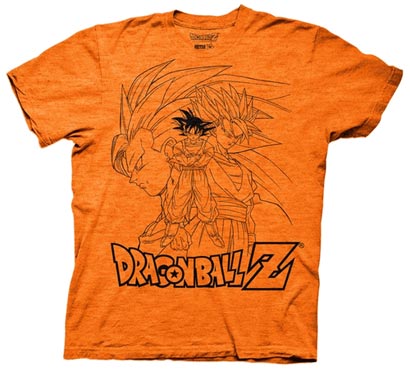 We got our hands on one of these cool Goku shirts from TVStoreOnline.com and decided to give it a review. I own more than a dozen DBZ shirts, including T-Shirts, Button Downs, Baseball Jerseys and Football Jerseys.

I love this shirt. I wore it out last night and the shirt got several compliments. I love the fact that it is a simple yet cool design. The line art of Goku is fantastic. And you get to see Goku in three different forms.

And I love Orange. The Orange is kinda "in your face", and the Black artwork just goes great with it! Reminds me of a Hemi Orange Dodge Challenger!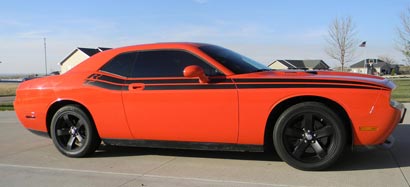 The shirt is made of 65% Cotton and 35% Polyester, and manufactured by Ripple Junction. It is a really soft and lightweight shirt. The polyester gives wrinkle resistance and will also help prevent shrinkage. The shirt feels true to size. Fits good in the chest and armpits for me. The shirt is also tagless, so no neck scratching. This is an officially licensed product from Funimation.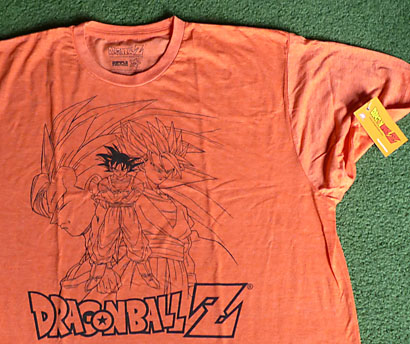 (This is our photo of the shirt. I would say the orange color falls somewhere between our photo and their image. Ours was taken next to an open window with a flash).

Anyways, I give this Orange Goku Shirt a huge thumbs up. At the time of this review, this shirt is going for $18.95 from TVStoreOnline. You can click on the link below to order the shirt. You can also find more DBZ shirts that might be more your style. ;-)


Dragonball Z Goku Collage Outline Adult Orange T-Shirt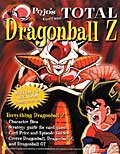 Our First Pojo DBZ book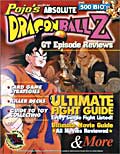 Our 2nd DBZ Book!

Copyrightę 1998-2013 pojo.com
This site is not sponsored, endorsed, or otherwise affiliated with any of the companies or products featured on this site. This is not an Official Site.