U.S. Dragon Ball Z - Episode Summaries
Episode 83 - A final Attack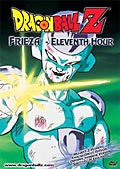 Get this Episode on DVD
from Amazon.com
The episode starts off with SSJ Goku attacking the weakened Frieza.
It looks like Frieza has finally been defeated when Frieza begins to power
up to maximum power. Goku with his new powers decides to let Frieza reach
maximum power. Then the battle resumes Friza punches Goku in the stomach
and also in the face Goku tries to escape Frieza, but Frieza follows. Both
Goku and Frieza increase speed and for a split second they both move so
fast that no one can see either of them. Then Goku finds himself in a river
of lava. Goku escapes but looses track of Frieza and Frieza makes a sneak
attack and beats on Goku. After reciving a serious beating Goku grabs both
of Friezas arms but Frieza makes Goku let go and kicks Goku in the face.
For a second Frieza thinks he has one but Goku says that this fight is far
from over thus ending the episode.
- Robert