U.S. Dragon Ball Z - Episode Summaries
E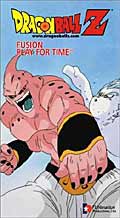 pisode 243- Super Moves of Gotenks
Super Moves of Gotenks - Gotenks toys with Buu, making up a bunch of goofy-named attacks. Then Gotenks goes Super Saiyan and the fight moves forward. For his last move, Gotenks decides to use his "Super Ghost Kamikaze Attack".
-----------------
Dragonball Z
English dubbed version
Super Moves of Gotenks
The episode starts with Piccolo looking really worried if Gotenks could win. Gotenks starts to use some of his own attacks and hits Majin Buu with some really strong ones but they didn't affect Buu at all. The Time Chamber surroundings change to some ice and Gotenks does a lot of goofy named attacks that didn't really work. Then Gotenks sees that Piccolo is really worried about the battle and Gotenks goes to talk to him about beating Majin Buu. Then Majin Buu gets impatient and they start fighting again. Everyone outside the Time Chamber wonders if Goten and Trunks trained enough to beat Majin Buu. Gotenks gets stuck in the ice but they break out when Majin Buu says Gotenks isn't strong. Then Gotenks goes Super Saiyan and Piccolo is really suprised that you can go Super Saiyan after fusing and begins to have more hope that Gotenks will save the world. Gotenks does another strong energy attack that sqeezes Majin Buu but Majin Buu breaks out of it. Then he starts to really beat up Gotenks. Gotenks then charges up and uses his Super Ghost Kamikaze Attack and spits out a ghost of himself. Then the episode ends.
Blake