U.S. Dragon Ball Z - Episode Summaries
Episode 216 - Magic Ball of Buu
Dragonball Z
English Dubbed
Magic Ball of Buu (#216.0) ~End of Babidi Saga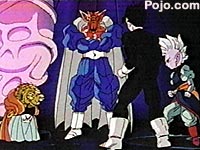 Stage 5. Gohan and Shin decend the ship, with one goal in their mind- not to let Majin Buu be re-born! When they make it down to the final floor, there is no sign of Dabura or Babidi, but Majin Buu's egg lies in front of them. Then, Babidi and Dabura step out from behind the egg. Babidi tells Kaio that he's waited to watch him die, and Babidi moves Gohan and Shin (Paparappa!) to the outside of his ship. The world appears to be darker- and it's no wonder- the most powerful force in the universe is about to be unvieled! The team look up to a cliff, and see the Piccolo and Krillin statues, and now, Gohan will fight Dabura, and Shin, Babidi.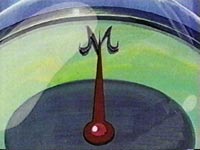 Majin Vegeta reveals to Goku that he let Babidi control him, because he wanted to be evil again. Now that he has lived on Earth, he has learned to care for people, something he had never done before. That is the key to his power- his evil self. So, Goku and Vegeta continue their fight...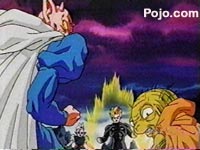 Back on the Earth, Shin and Gohan are ready to fight! But then, Babidi checks the M-Radar, and sees Majin Buu's power at full! Majin Buu will be reborn! Will the world end? How will anyone be able to fight this Buu if he's stronger then all of the Z-Team? Find out next time, on DBZ!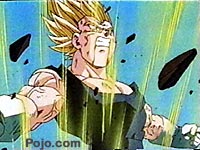 Next Episode: Gohan uses all the power he's got, and fires Kamehameha's at the Egg, trying to stop Majin Buu's birth! But, it looks like it's too late... Episode 217.0- Buu is Hatched!
~gundamdeathsytheh
---------------
DBZ Dubbed ep. #216. "Magic Ball of Buu".
The episode begins with M.V. and Goku continuing their struggle. They fire ki blasts at each other, but 2 no avail. Gohan focuses on his memories and goes Super Saiyan 2. Suddenly the Majin Meter beeps. Babidi sees the meter is full. Dabura asks what's happening, for the sky is dark. "MAJIN BUU IS AT FULL POWER!!!!!!!!!" Babidi shrieks. Supreme Kai gasps in terror. That's basically the ep. All that happened was M.V. and Goku in an actually boring part of their fight.
Next ep: Earth's darkest hour approaches! Buu Hatches!
--------------------