U.S. Dragon Ball Z - Episode Summaries
Episode 191 - The Newest Super Saiyan
This episode starts out with Gohan telling his mom that his dad Goku is
coming back for one day and that there both going to enter the next world
martial arts tournament.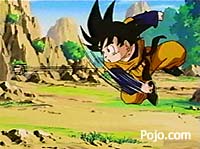 Cichi dose not want Gohan to enter this tournament but then he tells her that you get money if you win.So she is letting Gohan train instead of going to school. Goten helps him train by throwing rocks a Gohan and then sparred him. Gohan fought with Goten after he seen that he could turn into a super saiyan.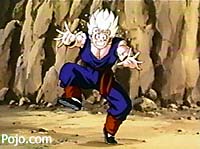 He tells the story of how he terns into a super saiyan. He challenged Chichi to a fight and turned into a super saiyan and beat her.He says that when trunks would come over they would train alot and that Trunks was a super saiyan too.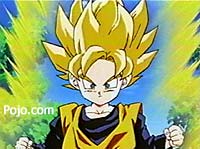 Then goten wants to learn how to fly so he wants tought but then Videl comes and wants to be tought how to fly to.After all,Gohan promised he would teach her how to fly.And thats pretty much the whole episode.
Submitted by Iwario2
--------------------
"The Newest Super Saiyan"
This is one of my favorite episodes. It starts off
with Gohan training, and Goten finding bigger and bigger creatures,
until he gets hold of a dinosaur, in which Gohan stops his training to
do more than yell at Goten. Gohan sees how sad Goten is that he can't
help, so Gohan tells Goten to throw rocks at him. After sending a rock
through a mountain, Gohan tells Goten to scoot back and go again. Goten
continues, and Gohan dodges them all until Goten stops and asks if he
can be like Gohan. Gohan is confused, and Goten says he wants to be a
super saiyan. Gohan laughs and begins bragging about being the youngest
super saiyan. Gohan stares with his mouth open as Goten transforms. (He
looks just like Goku does when hes a Super Saiyan.) Gohan can't believe
it! Gohan asks when this happened, but it seems like it was a long time
ago. Goten tells the story of how he is getting beat up by Chi-Chi and
then jumps at her and turns SS. After she starts crying and sobs that
there's another monster in the house, Goten looks around for the
monster. (That cracks me up.) Gohan and little brother begin sparring,
with Goten womping house. Gohan flies up to escape the blows, but Goten
gets Super Mad when Gohan teases him about not being able to fly. Goten
and Gohan "boogie" back to thier house when Gohan sees Videl flying
towards thier house. After they get there, they find Chi-Chi and Videl
in a catfight. Thats about it. emails @: buff_dude68@hotmail.com