Pojo's Dragon Ball Z Movie Reviews
Dragon Ball Z: Resurrection 'F'

July 29, 2015
Review by Bill Gill
I was fortunate enough to see an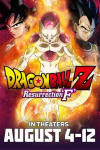 advance showing of the English dubbed version of Dragon Ball Z: Resurrection 'F' thanks to the cool folks at Funimation. The English Dubbing was made with the usual gang at Funimation: Sean Schemmel, Chris Sabat, etc. etc.
Resurrection F is the nineteenth Japanese animated feature film based on the Dragon Ball series. It will be shown in limited release at theaters across the U.S. from August 4th through August 12, 2015.
Storyline: The anime starts off with little fairies and cute stuffed animals running around in a forest. At first I thought I was watching the wrong movie, or maybe a lame cartoon before the movie. Then you see Frieza is all tied up, and this is his hell. Sort of like when Bill & Ted died in Bill & Ted's Bogus Journey.
Frieza's lackeys decide to sneak
down to earth and recover all the Dragon Balls to use their wish to wish Frieza back to life. This part of the movie is pretty lame. I'm not a big fan of corny Dragon Ball, and this goes on way too long. It's like watching a really, really bad 3 Stooges movie.
Once Frieza is resurrected, of course he wants his revenge on Goku. He knows that training made Goku strong, and Freeza decides to disappear for 4 months and train his power level to 1.3 million.
Meanwhile, Goku and Vegeta are training on Planet Beerus with Whis, and have no idea that Freeza has been revived. Gohan and Piccolo sense the presence of an evil power on earth before Frieza disappears to train.
So Frieza returns to earth 4 months later

with 1,000 soldiers from his new "Frieza Force". (Sorry, no Ginyu Force). The Frieza Force is greeted by Gohan, a bald Krillin, Piccolo, Tien, Master Roshi, Bulma and Jaco the Galactic Patrol dude.
Frieza sits in his flying pod and sends the lackeys to fight earth's defenders. Each of the Z Warriors is responsible for taking out about 170 bad guys each as best they can. You get to see the Z Warriors fighting individually for several minutes each. Meanwhile, Bulma is trying to get in touch with Goku and Vegeta.
The Z Warriors eventually down

all the members of the Freeza Force, and Freeza gets ready to wipe out the the Z Warriors (none, including Gohan are Freeza's equal).
Bulma finally gets in touch with Goku and Vegeta just before Freeza wipes out Planet Earth. Goku instantly transmits with Vegeta back to earth.
The big battle and real fun

finally begin with Freeza showing off his new Golden Form. Goku and Vegeta flash into their blue-haired Super Saiyan God forms. From here on, I won't ruin anymore of the storyline for you. From this point on, the movie is really worth watching for all DBZ fans. (And I'm sure you can predict how it's all going to end anyway).
Pojo's Rating: "B"
I'll be honest, I really wanted to

Fast-Forward through the first 30 minutes or so of this movie. The set-up was corny and boring. Once Goku, Vegeta and Freeza start fighting though, the movie really picks up and becomes enjoyable to any DBZ-aholic. I would have loved to have seen their battle on an IMAX, that would have been Epic!