The August/September 2000 issue of
PoJo's World
Pojo's Collector Card World has evolved into Pojo's World. THE Guide for Hot Anime, Cards, Collectibles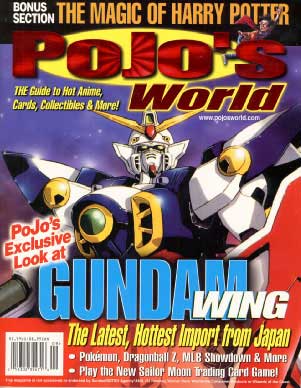 & more!
This month we feature Gundam Wing! And have cool foil Gundam Wing Cover. Inside you'll find: Gundam History; Cool Gundam Websites; Gundam Wing Terminology; Gundam Games; Gundam Toys; cool images; a huge Episode Guide & more! Sixteen full color pages of Gundam wing.
Also inside this huge issue:
Dragon Ball 101 - Five full pages on the the History of Dragonball. Do you know what happened before DragonBall Z? Let our Dragonball webmaster Douglas fill you in.
Digimon - Gordon Kane compares the U.S version of the handheld Digivice to the Japanese version.
Monster Rancher - A look at the videos and CCG
The Magic of Harry Potter - Get to know the high flying Harry Potter
Yu-Gi-Oh - More on the hottest TCG in Japan.
Wrestling - A look at the new wrestling CCG's. (And a double-sided wrestling poster too!)
Marvel Comics - 8 full pages on cool Marvel collectibles.
Sailor Moon - Go behind the scenes of the making of the Sailor Moon CCG. Also, more episode reviews.
What's Happening - The latest word in movies, anime, & Collectibles.
Pokemon Watch - The latest in Pokemon information.
Japanimation Nation - Surveying the hottest imports from Japan
Hot Commodities - The Hottest Stuff Around. Wrestling, Magic, Buffy, etc.
On the Horizon - Disney collectibles head exclusively to the net.
Vintage Vault - A look at painted collectible cards
Showbiz - Hollywood braces for a full-on Animayhem outbreak.
Japanimation Nation - Princess Mononoke is the beauty queen of Anime.
Price Guide - A huge price guide. Over 30 pages of card prices! Pokemon, Digimon, Dragonball Z, Magic The Gathering, and a whole lot more!
Want to buy your copy of PoJo's World at a Newsstand? Here are just a few of places that carry our magazine:
Supermarkets:
A & P
Albertson's
BiLo
Bruno's
Canada Safeway
Brookshire
Food Lion
Grand Union
Ingles
Kroger
Lucky
Piggly Wiggly
Publix
Ralph's
Safeway
Smith's
Stop'N Shop
Von's
Winn Dixie

Bookstores:
Borders
Barnes and Noble
B. Dalton
Books A Million
Crown Books
Cole's
Hastings
Waldenbooks

Drug:
American
CVS
Eckerd
Walgreens
Brooks
Rite Aid

Convenience:
Circle K
Dairy Mart
Southland
Diamond
7-11

Discount:
K-Mart
Target
Wal-Mart

Military:
AAFES
Navy Exchange

Airports:
Hudson News
WH Smith

Misc.:
On Cue
Media Play
KB Toys
Zany Brainy
Blockbuster Video
Back to www.pojo.com