Pocket Monsters Card Game (PMCG)
Japanese Set Compositions and Price Guide
c.1999-2000 The PoJo -- http://www.pojo.com

Japanese "Gym Leaders" Theme Deck Listings
Revised 04/01/01 HHH
---
Full Card List Notes
There are no "1st Edition" Japanese cards. All cards are considered to be "unlimited" print run, and to our knowledge still in production.
We are NOT selling cards. These are compiled for clarification of relative values and what you might expect to pay at a game store or collectible dealer for these cards.
Some of the cards in these sets are available in many different expansion sets not associated with these decks. However, all of these Theme Deck cards do not have rarity symbols on them. Theme Deck cards (without rarity symbols) are fixed sets and therefore typically lower in value than the cards listed here from the Expansion booster packs.
---
The Guren Town Gym Deck
Gym Leader Katsura (Blaine)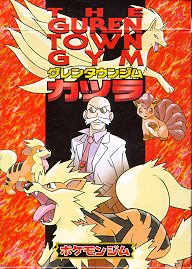 | | | | | | |
| --- | --- | --- | --- | --- | --- |
| Price | Qty | Color | Level | Poke # | Card Name |
| $4.00 | 1 | T | | | Blaine (foil) |
| $10.00 | 1 | | Lv42 | #59 | Blaine's Arcanine (foil) |
| $.50 | 2 | | Lv17 | #58 | Blaine's Growlithe |
| $.50 | 2 | | Lv20 | #58 | Blaine's Growlithe |
| $.50 | 2 | | Lv11 | #77 | Blaine's Ponyta |
| $.50 | 2 | | Lv13 | #77 | Blaine's Ponyta |
| $1.00 | 2 | | Lv31 | #78 | Blaine's Rapidash |
| $.50 | 2 | | Lv18 | #37 | Blaine's Vulpix |
| $.50 | 1 | | Lv09 | #37 | Blaine's Vulpix |
| $2.00 | 1 | | Lv27 | #38 | Blaine's Ninetales |
| $1.00 | 2 | | Lv29 | #126 | Blaine's Magmar |
| $1.00 | 2 | | Lv18 | #4 | Blaine's Charmander |
| $.50 | 2 | | Lv17 | #84 | Blaine's Doduo |
| $0.50 | 2 | T | | | Blaine's Quiz #1 |
| $0.50 | 1 | T | | | Blaine's Quiz #2 |
| $0.50 | 2 | T | | | Blaine's Gamble |
| $0.50 | 1 | T | | | Pokedex |
| $0.50 | 1 | T | | | Hot Blooded |
| $0.50 | 1 | T | | | Potion |
| $0.50 | 1 | T | | | Crystal of Wellness |
| $0.50 | 1 | T | | | Full Heal |
| $0.50 | 1 | T | | | Switch |
| $1.00 | 1 | T | | | Cinnabar Island Gym |
| $1.00 | 1 | E | | | Double Colorless Energy |
| $0.50 | 27 | E | | | Fire Energy |
$28.00 Complete 64-card Deck
Includes: Rulebook, Guide Book, Holographic "Arcanine" Coin
---
Release Date: Summer 1998
Designed by "Creatures" (Japan)
Distributed by "Media Factory" (Japan)
---