Pirates of the Caribbean Home
Message Board
Card of the Day
Contact Us

Spoilers Dead Man's Chest


Magic
DBZ
Pokemon
Pirates
Yu Yu Hakusho
NeoPets
HeroClix
Harry Potter
Anime
Vs. System
Megaman
This Space
For Rent


Pojo's Yu-Gi-Oh Card of the Day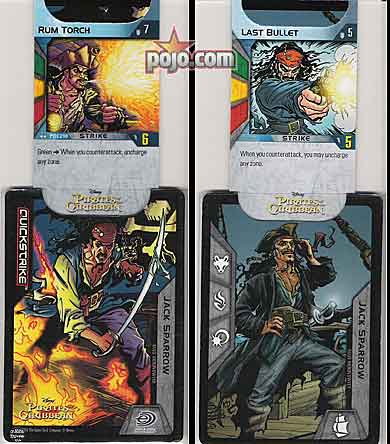 Jack Sparrow Chamber #210
Uncommon

Fox Strikes, Spirit Advantage, Shadow Allies.
Sig Move 1 - Last Bullet - 5 Intercept, 5 Force.
No Payment. When you counterattack, you may uncharge any zone. Sig Move 2 - Rum Torch - 7 Intercept, 6 Force. No payment. Green -->When you counterattack uncharge any zone
Card Ratings
Traditional:
Advanced:
Ratings are based on a 1 to 5 scale 1 being the worst.
3 ... average. 5 is the highest rating.
Date Reviewed - 07.10.06

WildWill
Name: Jack Sparrow
Type: Chamber
Card #210
Rarity: Uncommon.
Strikes Allowed: Fox & Sails
Advantage: Spirit
Ally: Shadow
Signature Move #1: Last Bullet - 5 Intercept, 5 Force. No Payment. When you counterattack, you may uncharge any zone.
Signature Move #2 - Rum Torch - 7 Intercept, 6 Force. No payment. Green -->When you counterattack uncharge any zone

Everyone wants to play Jack Sparrow, right? Well, most PotC fans would I'd wager. Fox strikes are more sneaky, eliminating your opponent's energy is one facets of Fox strikes, another would be a higher defense than average, with lower force levels. Meaning you're going to stop most of your opponent's strikes, and make them waste their own energy. Playing against my wife, I noticed that my energy kept decreasing, and hers kept increasing with each strike. Winning points against a Jack deck is going to be tough.

His signature moves are awesome as well, because you pretty much guarantee that your opponent won't be retaliating with a signature move of their own.

As an uncommon this chamber would have a base level of between $2 and $3, but since it's Jack Sparrow, you can bump that up a couple of dollars.

My Ratings:
Playability: 4 of 5
Collectability 4 of 5

Next time: Jack strikes…or does he? Stick around!


Copyrightę 1998-2006 pojo.com
This site is not sponsored, endorsed, or otherwise affiliated with any of the companies or products featured on this site. This is not an Official Site.