Pojo's Nintendo GameBoy/DS
Pokemon of the Week
by Geoffrey Koester
Pokemon of the Week #1 - Vaporeon (134)
Introduction
This is DanielSuperpoke, coming to you with a brand new feature. Pokemon of the Week. Each week, you'll get to see a different Pokemon in the spotlight. I hope you enjoy it, and continue to read each week. This week's Pokemon is Vaporeon. Vaporeon is one of my personal favorites, and so it is only fitting it get to be honored as the first Pokemon of the Week.
Basic Information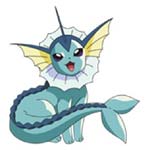 Base Stats:
HP: 130
Attack: 65
Defense: 60
Sp. Attack: 110
Sp. Defense: 95
Speed: 65
As you can see, Vaporeon is excelling as a Special Wall/Tank.
To hatch Vaporeon, you're going to need 8,960 steps. It's in the Ground Egg Group. EVs given from defeating Vaporeon are 2 points in HP. It's catch rate is 45. It evolves from Eevee via use of the Water Stone.
Competitive Analysis
Vaporeon has a few sets of use, all mostly do the same thing though, and that is walling. I've stalled many of my opponents till I got victory with my own personal set of Vaporeon listed here:
Vaporeon @ Leftovers
Bold - Water Absorb
188 HP / 252 Def / 68 Spe
~Surf
~Ice Beam
~Aqua Ring
~Acid Armor/Baton Pass
Surf is great for Stab, Ice beam for pesky grass types, and flying, but mainly grass that try to switch in thinking I have HP Electric, and not Ice Beam. When you first bring Vaporeon, you need to get Aqua Ring up as quick as possible. With Leftovers accompanying it, it's very hard to get any damage done to Vaporeon with out it healing it off. Acid Armor is for additional Defense support, it boosts it 2 stages. This makes it even harder to do substantial damage. You could also use Baton Pass instead of Acid Armor, if you want to pass Aqua Ring off to a less sturdy teammate. I haven't tried Baton Pass personally, but it is a good substitute for Acid Armor if you don't want it.
A note on how effective this is, I used this first when I had a Vaporeon with a Careful nature, and horrible IVs, and it still won me some battles, and if it didn't win, it stalled it out until I could figure out how a game plan. With a bold nature, the nature it should have, it is an excellent wall and is a great addition to any team, particularly stall, but doesn't matter.
Smogon offers several sets that are also useful, you can find them here: http://www.smogon.com/dp/pokemon/vaporeon
Personal Analysis
As I said, Vaporeon is one of my most favorite Pokemon. It's such a great addition to just about any team with it's great walling and stalling potential. Vaporeon, the Bubble Jet Pokemon, can never be forgotten when you are building your team, I've even seen it used on SandStorm teams, due to it's bulkiness. Point is, it's just great to use, no matter what your team is.
Other Information
Vaporeon has had several Anime appearances. None in the movies, but it's had it share of TV Cameos. Here's the episode list for you:
Episode 40: The Battling Eevee Bros.
Episode 56: The Ultimate Test
Episode 185: Trouble's Brewing
Episode 228: Espeon Not Included
Episode 429: On Olden Pond
It's pretty much not possible to catch an actual Vaporeon in the wild, you will have to catch and Eevee.
Closing
In closing, I say this: Always consider Vaporeon in your teams. Don't doubt it's powerful ability to stall and wall. If you have any questions about Vaporeon, I accept any and all of them via PM on the Forums. Untill next week, this is DanielSuperpoke, signing out!