Pokemon Deck Garage (G-Unit)
6/25 INFERNO
Whaddup pokeman peoples. Today im doing a deck summary on a deck that is gaining popularity everywhere. INFERNAPE! So far it has won the most Battle Roads. It's very consistent and powerful and fits well into the current metagame. It can turn 1/2 KO any pokemon almost everygame.
This deck is getting a lot of people worried by its dominance. It's so fast it can shatter your opponents strategy very early in the game. The whole deck is worth about 100$ in value or lil higher. If you trade online you might be able to get some of the cards cheaper if you ever wanted to build it. Well here's a list for some who don't know about the deck.
Pokemon 16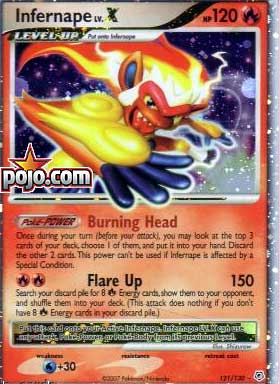 4 Chimchar
2 Monferno
3 Infernape
1 Infernape LVx
3 Skitty CG
2 Delcatty PK
1 Delcatty ex
Trainers 27
4 Rare Candy
4 Holon Transceiver
4 Plus Power
3 Windstorm
3 Celios Network
2 Holon Adventurer
2 Holon Lass
2 Holon Mentor
1 Holon Scientist
1 Holon Farmer
1 Professor Elms Training Method
Energy 17
13 Fire
4 Double Rainbow

Strategy: The strategy is quite simple. KO everything! All Offense! Blitz! Infernape can do 90 for two energy which is amazing. Even if you have double rainbow on it its still alot of damage and plus powers help alot in every matchup. Delcatty discards the energy from your hand to your discard pile and that eventually will build up a Delcatty ex or Infernape LvX being able to do 150-200 damage tops. Not to mention you also draw 3 cards. Infernape has free retreat same with delcatty ex making it no reason to have switch or warp point in your deck. So this deck is all heavy hitters which can KO any of your opponents active and it does it t1/t2 not giving them a chance to recooperate.
Tha Match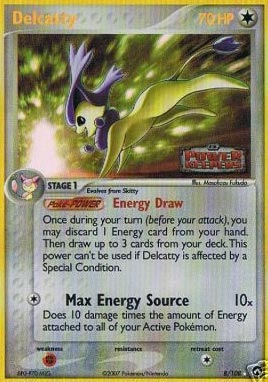 ups
Absolutions 60-40
In this matchup you really need to go first. Vaporeon ex will probably hurt you the most not just weakness but it ruins your setup. Overall if you play as usual its quite winnable.
Banette 70-30
This deck really isnt a big problem. Yea it gets a banette ex out turn one. It has 90 HP and makes it a solidely easy t1/t2 KO for two prizes.
Delta 50-50
Just pray you dont start with skitty in this one because they could have a execcute d start and you have weakness. Also if you get the 1st prize im pretty sure they'll have a raichu+scramble+solid rage ready. They play curse stone, cessation crystals, it could slow you down alot.
Destiney 50-50
This is a tricky matchup. They play curse stones, cessation crystals, and rayquaza d ex can snipe you from left to right. Rayquaza d ex will probably ruin your whole gameplan because it feeds off of your fast ko's.
Flaridos 60-40
Both of these decks are t2. If they miss their flips with Super Scoop Up and you went 1st your in decent shape.
Flytech 60-40
This match is tricky seeing flytech takes usually T3 to fully setup a gameplan. With you koing t1-t2 could ruin that chance. Although Mew d * + Flygon d could be
all thats needed. To buy it that extra turn. Overall you should win but if you start with skitty its even game.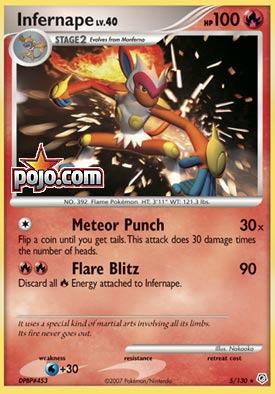 Metanite 70-30
In this match Metagross d has weakness to you. You cut off their strategy hopefully t2. Now seeing you will probably grab the 1st 2-3 prizes it should go in your favor.
Metalix 80-20
This is almost the same as metanite but except they need alot more and steelix ex and scizor ex have weakness to fire. Not to mention you will make them on the defensive side because your gonna grab the 1st 2-3 prizes and when something big comes up its an easy two more prizes.
Mirror 50-50
This match goes to the build of the deck, consistancy, and skill of the player.
Shiftree 50-50
This deck is a solid matchup. Shiftree ex hurts your Delcatty/Infernape LvX everytime it uses a power. With stone in play really doesnt give you a chance to setup. It is a very tough match and its just as fast as infernape.
We'll theirs a breif summary of the deck and what it can do.
For questions or comments, send an email to gdogthechamp@yahoo.com
Holla at cha boiii AIM=Gdog121TheChamp.
~g