History of Pojo's Pokemon Magazines
December 1999 - Our first issue!
Vol. 1 - No. 2? WTF??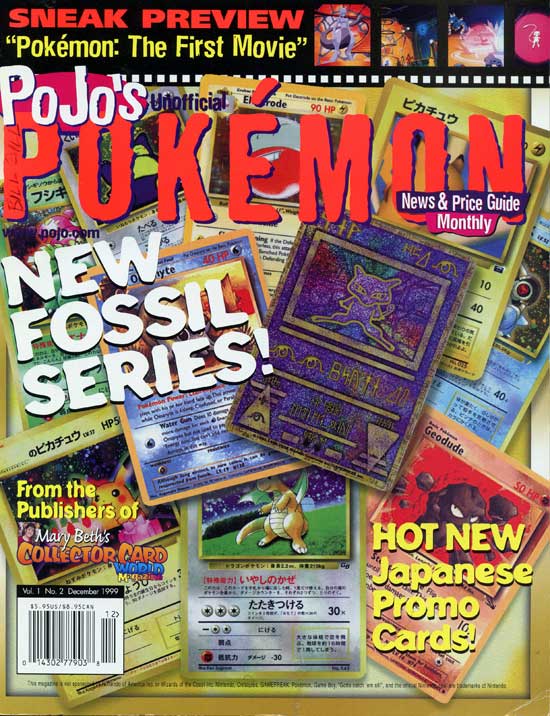 We get asked quite often about our old Pojo Pokemon magazines (1999-2001). So we figured we would put together a history for you starting with our very first Pojo Issue.
In the Fall of 1999, we were an extremely popular Pokemon site. We were getting over 100,000 unique visitors per day!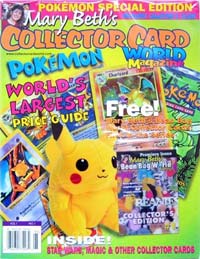 We were approached by a magazine publisher called H&S Media to see if we wanted to help them with a line of monthly Pokemon Magazines they were going to put on magazine stands. They had already put out one issue and it sold very well for them. Their first issue was called "Mary Beth's Collector Card World Magazine". "This was Volume 1. No. 1". Mary Beth was their guru for Beanie Babies at the time, and they published a monthly Beanie Baby magazine that was selling extremely well. (The beanie baby bubble would burst just a few months later).
The first Mary Beth's Pokemon magazine was a bit lame. It had scans of Pokemon cards and a Price Guide, but no "meat". The publisher at first wanted our help to make the Mary Beth's Pokemon Magazines better. We convinced them to change the title to Pojo since we had an established Pokemon Brand people knew with Pojo.com. They agreed.
So the first Pojo's Pokemon Issue is actually numbered: Vol. 1 No. 2 - December 1999. It was actually already halfway done before we jumped in, and we convinced them to add a little more substance. The magazine is 176 pages long, which is really nice for a magazine.
So ... what's inside?
This issue featured our first "Ask the Master", where we answered letters from fans. And we encouraged fans to send us more questions & fan art!

There was a Pokemon News section in the front, as well as a Pokemon Toy Section with all the latest toys.

A two page review of Pokemon Pinball for the Game Boy.

Kit Kiefer had a guide to Guarding your cherished Cards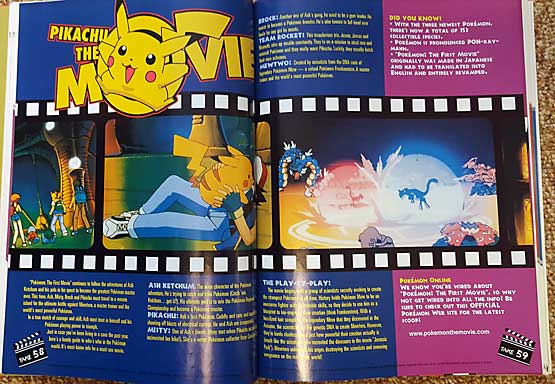 A six page sneak peak on "Pokemon the First movie" which was coming out November 12th, 1999. (I know the magazine was dated December, but mags almost always come out 2 months before their dates. ;-)

There are images of every card from Fossil which was the newest expansion at the time.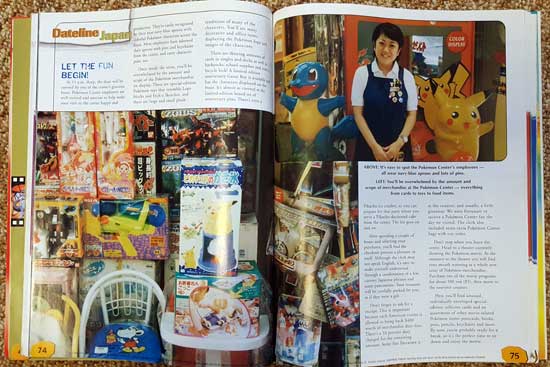 A six page sneak peak of the Japanese Southern Islands Cards which we snagged from Japan.
There's a sixteen page section titled Dateline Japan. Linda Sigrist went to Japan and visited the Pokemon Center in Tokyo, and had some fun pictures from inside and out. And there are dozens of photos of foods, drinks, candies, utensils, toys, mousepads, plush, etc. from Japan. This is actually a pretty cool article, even now.
A full page on the Japanese Birthday Pikachu card - it was selling for $60 on bay back then.
A full page describing the Japanese Ancient Mew card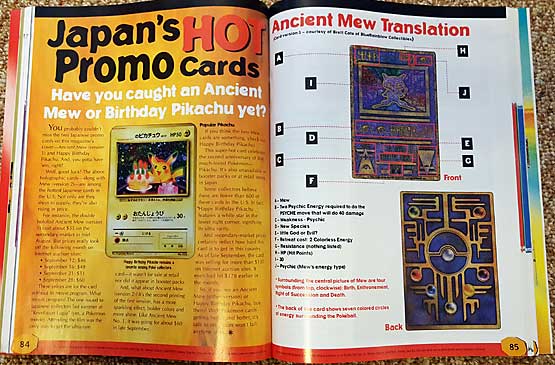 A Top 10 TCG Price Guide - 1st Edition Charizard was already fetching $85 on EBay, even back then.
There was a great Counterfeit Alert article and how to spot counterfeits
Kit Kiefer has a Killer Decks section with articles on how to build: Rain Dance #1, Rain Dance #2, Mr. Mime #1, Mr. Mime #2, Haymaker #1 & Haymaker #2.
There are scans from every card in the Base Set with a strategy tip for each card.
There are scans from every card in the Jungle Set with a strategy tip for each card.
There's a Price Guide for all the U.S. and Japanese Cards that were available at the time.
There's are scan of the Topps Pokemon TV Animation Edition Cards.
There's a foldout, pullout section with a play-mat that you could use to help you learn the Pokemon Trading Card Game.
There's a small fan art section and a fan photo section.
Our Overall thoughts: This a pretty cool collectible magazine and historical reference for Pokemon from a Fall 1999 perspective. The list price was $5.95. You can probably find it on EBay for about that price, and we think you'll get that a lot of enjoyment out of it.