Muk Man on Pokemon
Muk Man's Season Chronicles
Since I plan on going to worlds this year, I decided to chronicle my season. I hope that others may learn for my experience, and take the proper steps towards becoming a better pokemon player. I am also doing this so when I leave the game I will have something to reflect upon.
My Road To Worlds…
Episode 3 "Pokemon Interrupted…"
So a third week has gone by without several keycards coming, so my deck sits at about 95%complete. I come to work on Monday, and I check the schedule to see what the upcoming week has in store. To my surprise, there is a new event with my name scheduled next to it. And the paper reads…"Come checkout VA this Saturday in the Greenville Christmas parade"…. What is this, this wasn't here yesterday. My Boss informs me of a last minute addition to the remote schedule. The parade starts at 8:30am, which is perfect, because Cary, NC is one hour and thirty minutes away. By the time Thursdays comes, the parade is pushed back to a 9:30 start time. I know now that I will probably be late to the event, so I loan my deck to a friend, because I really want to see how it does. The day of the parade the event starts extra late, so I'm not finished till 11:30, I rush to Cary, praying that the event started late and I would only miss 1 round allowing me to still make top cut. Traffic!!! I make it there 30seconds before the second round starts. Knowing I can't make the top cut, I decide to h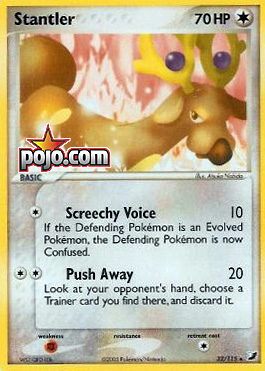 ave some fun and I register my 100% original, 50% secret "SUPER STANTLER" deck and play a practice game with an opponent who has a bye in round 2.
Vs Typhlosion
I get a Stantler start against his Jirachi; I go first and hit him for 10. He wishing stars and grabs something. I attach the water along with the Holon WP and then castaway for a water, Mary's, and cessation crystal. Then push away his hand. I make him discard the rare candy. Next turn without wishing star he plays some supporter, plays a Cyndaquil attaches a fire energy and then passes. I play the Mary's I top decked then play dual ball. 1 heads. I grab the Latios d ex and attach an energy to it. I play cursed stone and push away again. He has no energy in his hand so I push away the only supporter he has left. Cursed Stone ko's Jirachi and then he sends up a lone Cyndaquil. Game is over next turn. We play again but with holons WP attached and his Typhlosion always confused he only takes 1 prize before the Latios d ex KOs everything.
Official 0-2
Unofficial (1-0)
We go to break, and the player I lent my deck to is 1-1 losing turn 3 to an Arcanine ex deck, but surprisingly another player who I showed Super Stantler to is playing a slightly different version and is 2-0!
So Round 3 starts…I get a Bye
I play another player with a bye
Vs Venasaur
My Stantler with cessation crystal and Holons WP never dies because he never gets the stage 2s out, and he cant hurt me with status conditions. I think Marrowak does make an appearance this game, because Holon legacy removes his weakness and I wanted to ohko all his basics as soon as he played them.
Official (1-2)
Unofficial (2-0)
Round 4 vs. Polistall
WOW, the only deck that I auto lose to, because I have low hp and can't hit the bench. But that was the original version before I added Latios d ex. During the game before he get a Politoed ex up, my Stantler with holons WP and cessation crystal KOs like a million fossils. Because with no poke body, the fossils are…. just fossils, and I push away every supporter and rare candy before he can play them and with no cards in his hand he can't use his Holon engine so top decking anything doesn't help, plus next turn he has to discard it because I use push away. So by the time he gets Politoed up. I have a 2 latios d ex waiting. I then ice barrier him to death. And with no fossils to hide behind it doesn't take long. I think he does swallow up Stantler though…lol. We play a second game for fun because the first ended so early, and it last just a little longer, but the game goes pretty much the same.
Official (2-2)
Unofficial 3-0
Round 5 vs. Flaridos
For me this is an auto win. And it goes pretty simple. I stall out with 1 Stantler keeping her Aridos confused and as soon as I get a Stantler with holons WP and water on the bench, I retreat or sacrifice the active and then switch it with the benched. I play the cessation crystal and lock cursed stone into play. I push away all the scoop ups and counter stadiums. And in 4 turns she evolves into the ex's or losses. That's what happens and as soon as she does that 4 turns later the game is over cause cursed stone works fast. That's what happened and latios d ex KOs the last Flareon ex.
Official (3-2)
Unofficial (4-0)
So My Super Stantler went undefeated on the day, but because I came late, I finish 11th, . The other Stantler player loses his last 2 matches (but only on misplays) finishing 2-2. The deck I lent to my friend, finishes 3-1 and misses top cut due to resistance. But most importantly my k rating goes up and now I'm 5th in the state and just a little closer to the top 8.
Everything is going good till I get the news that my Grandmother is slowly dying the very next day. It makes it hard to play pokemon, so I take the week off and make plans to visit her.
What is Super Stantler…? How does it work…? What about Grandma?
Stay tuned for the next installment. Episode 4 "Super Stantler to the rescue…."
~Muk Man~
P.S. Jeff Reynolds is the best T.O. EVER!
For questions or comments, send an email to Treluv3@Excite.com
AIM=Xx804IcemanxX
WWW.TheBeatNC.com